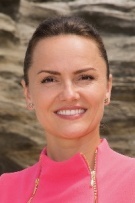 eXp Realty
Lic. #RB-22216 (HI)
Contact Me
Ana-Maria Contis was born in Cluj, Transylvania, Romania. Although she comes from Dracula's land, Ana-Maria is a very caring person. In June 2000, with about $130 in her pocket and barely able to speak a few sentences in English, she relocated, by herself, to the USA. During this tumultuous journey, she realized there are moments in life (whether planned or not) when you need different specialists for yourself or for the people you care about.

When it comes to relocating, downsizing, or upsizing, Ana-Maria can help you decide what strategy works best for you (ex: if you have another home, should you sell or rent it, should you sell or buy first, etc.). She has the patience, awareness, and knowledge to discover your specific real estate goals/needs/concerns, so the move into the next phase of life is manageable in every way.

She has the resources to find the right home for you while saving you money (rebate programs, different commission structures when you buy/sell, access to an auction platform, and a marketplace of cash buyers - if you also have a home to sell). She can connect you with great local lenders (who know the ins and outs of the local market – crucial when it comes to lending), home inspectors, estate planners, CPAs, and many other key professionals.

Since 2003 Ana-Maria has successfully helped hundreds of families with their real estate needs. Reach out to Ana-Maria. See if she is a good fit for your next move.