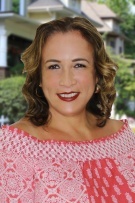 Anamaria Manzano
Century Village Real Estate, Inc.
Lic. #3280837 (FL)
Anamaria began her real estate career in September of 2013 and moved to Century Village in June 2015. She now knows her community first hand and has a passion for showing others why she loves it so much.

"Service Above and Beyond" is the motto Anamaria lives by, and her real passion is connecting people with the new home they are looking for in the least amount of time possible.
...Read More
Jack and Esther K.
Anamaria's service was impeccable and the whole process was very efficient.
March 3rd, 2018
Aviva R.
Anamaria has the ability, attitude and aptitude of a skilled veteran in this business.
...Read More
March 3rd, 2018
Carolyn B.
Anamaria's generous attitude and understanding of my situation gave me more reason to think highly of her. It reflects great integrity on her part.
...Read More
March 3rd, 2018
Showing 1 - 3 of 10 reviews