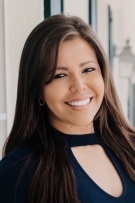 Bianca Ares
Vista Florida Realty
Lic. #sl3372110 (FL)
Bianca Ares relocated to Florida with her family in 2004 from Long Island, New York. She went on to receive her Communications degree from Florida Gulf Coast University, where she was a Resident Assistant, working for the Housing department. Upon graduating, Bianca worked in Property Management, in which she discovered her interest in Real Estate while building relationships with the residents in her community.
I am writing this review regarding the experience I had with Ms. Bianca Ares. I recently purchased a townhouse in Palm Bay Florida with her assistance.
May 1st, 2020
I'd be honored to let people know what a wonderful job you did helping us find our home.
May 1st, 2020
I was so pleased with the services of Bianca Ares. She sold my house in 13 days! She was very accommodating and a pleasure to work with. For great results, call Bianca!
May 1st, 2020
Showing 1 - 3 of 10 reviews