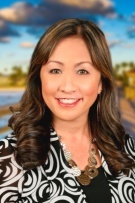 Colette Nishimura
Coldwell Banker
Lic. #75548 (HI)
Born and raised on Oahu, Colette has an intimate knowledge of all areas across the island. She began her career in real estate in 2012, and everyday loves working with clients to help them find their home in the tropical paradise of Oahu. She takes great pride in providing outstanding service for her clients and helping them every step of the way.
Collett describes an agent that you would love to have when looking for that dream home. Very professional and has the knowledge to get it done to the end.
November 8th, 2017
"Colette was absolutely wonderful to work with! She went out of her way to get answers to our questions and provided timely feedback! We recent located to Hawaii from California a.
October 18th, 2017
Colette was able to assess our needs as prospective home buyers and knew our financial situation.
October 18th, 2017