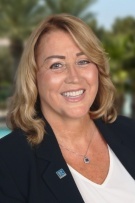 Connie Cooper Realty, Inc
Lic. #BK3350216 (FL)
Contact Me
When you choose Ms. Cooper as your Real Estate Professional, you will have made an excellent choice. She promises to be there for you, working hard as your advocate in what may be the largest money transaction you have ever undertaken. She is very respectful of this fact.

As a Graduate of the Realtor® Institute, Ms. Cooper has an above average knowledge of how appraisers conduct the appraisals, what to look for in a mortgage company, how insurance companies determine eligibility, what home inspectors are looking for, how to stage your home, what repairs lend value, and those that do not. As a buyer, you will have access to Ms. Cooper's incredible team of professionals that will assist you in the buying process. As a seller, you will have access to Ms. Cooper's exceptional marketing strategies. All of her clients will have the benefit of Ms. Cooper's intellectual knowledge of the real estate business and its nuances in the process of negotiations.

One of the most common complaints the Board of Realtors receives is lack of communication. Ms. Cooper has a proven track record of prompt communication with her clients in the manner and time of their choosing. She will keep you abreast of all things relating to your home sale or purchase.

When you choose Ms. Cooper, you have hired someone with strong negotiating, pricing, and marketing skills. She will stay with you through every step of the transaction, from listing to closing. You have made the best choice!