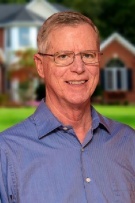 West USA Realty
Lic. #SA647054000 (AZ)
Contact Me
Dave has been married for over 45 years and has three grown children and five grandchildren. Dave moved from central Illinois to the Phoenix area in 1985 and has lived in the east valley's city of Tempe ever since.

Dave's previous career revolved around new home construction until 2007 when he became a professional photographer and videographer. Those previous careers have been extremely helpful in Dave's real estate career that started in 2013.

Dave enjoys taking pictures of Arizona's phenomenal variety of sights, wildlife, and activities. He also rides horses and enjoys the thrill of jumping them over fences. That's where the tag line "No horsing around – Dave Getz it done!" comes from.

But of all the great things to do in Arizona, Dave's favorite is helping folks buy and sell homes! He gives personalized service that has made him an award-winning Realtor with 5-Star reviews.