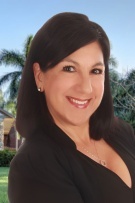 Deanna Maldonado
Century 21 Tenace Realty
Lic. #3313112 (FL)
Deanna brings her past experience of living in the North with her expertise of the South Florida area to showcase true excellence as a REALTOR. With over 20 years of business experience this wife, mom of two, and business woman knows how to bring patience, drive, and ambition to her trade. She will work with all types of clients and relocations and will be an advocate for you.
...Read More
Allan and Rosemarie L.
My husband and I knew who to call when it was time to sell our home. It would be Deanna Maldonado. Deanna is a true professional.
...Read More
September 13th, 2018
Robert & Diane P.
"Deanna worked with us to give us the best commission rate and attention to detail with regards to our condo sale.
...Read More
September 4th, 2018
Milan & Diane D.
"Deanna took the time to help me find the perfect place. When my 1st choice didn't work out, she immediately started looking for more places to look at.
...Read More
September 4th, 2018
Showing 1 - 3 of 14 reviews