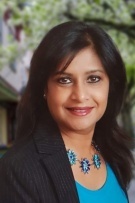 Devi Kowlessar
Cornerstone Real Estate
Lic. #40k01019324 (NY)
Devi has a passion for Real Estate and helping clients with achieving their goal of homeownership. She has been a licensed Real Estate Agent for 17 years. She has extensive knowledge and experience in today's market including Short Sales.
Devi is personable, knowledgeable and very professional.
February 5th, 2020
Devi Kowlessar sold my house and helped me buy my new home. Devi is a 5 Star real estate agent. She is punctual, easy to work with and very helpful during the process.
February 5th, 2020
When I first met Devi, my 2 daughters ran up to her and hugged her! Devi is very friendly and knowledgeable about the real estate industry.
February 5th, 2020
Showing 1 - 3 of 4 reviews