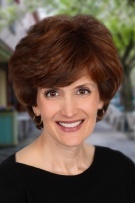 Eileen Renowden
Coldwell Banker Realty
Lic. #1647842 (NJ)
Eileen Renowden of Coldwell Banker Realty is a successful real estate professional who specializes in understanding the needs, considerations and goals of real estate buyers and sellers aged 55 and older. As a former corporate sales and client services executive Eileen possess an excellent combination of skills to navigate through each transaction, beginning at the initial consultation through to closing and beyond.
Eileen is incredible! I can't imagine going through this process without her.
March 31st, 2020
Eileen was a great asset in selling my house. Her local knowledge, responsiveness and negotiation skills are top notch. She is also a great person.
March 31st, 2020
Eileen was very honest with us from the beginning which we appreciate. She was always there when we needed her and answered all of our questions and concerns with expertise.
March 27th, 2020
Showing 1 - 3 of 4 reviews