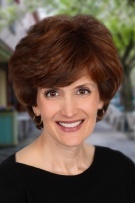 Eileen Renowden
Coldwell Banker Realty
Lic. #1647842 (NJ)
Eileen Renowden of Coldwell Banker Realty is a successful real estate professional who specializes in understanding the needs, considerations and goals of real estate buyers and sellers aged 55 and older. As a former corporate sales and client services executive Eileen possess an excellent combination of skills to navigate through each transaction, beginning at the initial consultation through to closing and beyond.
We had a little unusual context, with country relocation and zero knowledge of how the process would work.
April 15th, 2020
After going through several realtors in my search for an investment property, I met Eileen, who I can say very honestly is the best of the best! She is terrific in the real estate.
April 14th, 2020
We were so fortunate to have found Eileen Renowden. We were first-time home buyers with very little knowledge about how to find the right place.
April 7th, 2020
Showing 1 - 3 of 10 reviews