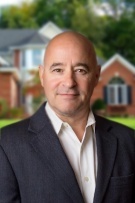 Keller Williams Prestige Properties
Lic. #REB.0791120 (CT)
Contact Me
George Gardone is based in Connecticut with 18+ years' Real Estate Business Experience. George has built a solid foundation of private and corporate clients through his years of experience.

George's entire career has always involved customer service, client relations, sales, marketing, and promotion. His greatest strengths are his creativity, drive, and leadership. He thrives on challenges, particularly George's approach to any transaction is this "It's about the people, not the Agent".

Mr. Gardone has a long record of successfully guiding local, national, and multinational clients with their residential and commercial real estate acquisitions and lease obligations. His specific areas of expertise include strategic planning, space utilization, transaction management, and financial structuring.

George specializes in applying his expertise and market knowledge to Broker Residential, commercial and multifamily properties that consistently exceed the investment goals of his clients.