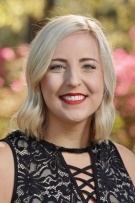 Hannah Robbins
Woodside Development
Lic. #99230 (SC)
Hannah and her husband first fell in love with Aiken due to its rich history, thriving downtown, and diverse culture. Hannah is a South Carolina native, and she graduated from the Aiken campus of the University of South Carolina. She enjoys golfing with her husband Scott, and spending time with her son Maddox and four-legged dog children Watson and Beauford.
If you get the opportunity to work with Hannah Robbins in finding your dream home, you are truly fortunate! She is honest and transparent, and genuinely passionate about helping p.
February 19th, 2019
We were shopping around for our retirement home at a home expo in Northern Virginia when we stopped at the Woodside booth manned by Hannah Robbins.
February 13th, 2019
We thoroughly enjoyed our time working with Hannah, and we came to know her as a truly valuable asset.
February 9th, 2019
Showing 1 - 3 of 5 reviews