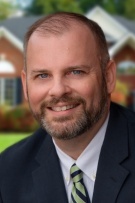 eXp Realty
Lic. #1649 (WA)
Contact Me
Jamie McAuley is a Managing Broker at eXp Realty, an international brokerage firm. Real Estate is a family affair for Jamie. He possesses an intimate knowledge and passion for the living options in the Greater Seattle area. Jamie resides in the city of Sumner with his wife and two young children, Cooper and Spencer. Assisting both buyers and sellers, he prides himself on his in-depth knowledge of the intricacies of a real estate transaction and
his ability to communicate to make his clients feel comfortable and confident in their decision to purchase or sell.

In his spare time, Jamie enjoys the great outdoors, including hiking, playing golf, and traveling. At home, he loves spending time with his boys and his wife, who also partners with him as the Transaction Coordinator for McAuley Homes. Jamie feels that real estate is all about family and creating those living spaces to enjoy life and spend time with those that are most important. It is the relationship that is built between Jamie and his clients, not the transaction that is most important to him.