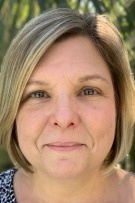 Florida Fine Homes Realty, LLC
Lic. #SL3395569 (FL)
Contact Me
Jill Buckley, Realtor, Accredited Buyers Representative

With degrees in Counseling/Mental Health and Therapeutic Recreation, Jill has worked in many healthcare and counseling positions with many different populations. Jill also has much marketing experience, working as a merchandiser/marketing rep for fortune 400 companies.
A Jill of all trades! She has done a lot in her life, ask her anything, she may just know the answer.

Jill enjoys reading, golf, pottery, cooking and will always volunteer for something. She belongs to many social clubs in The Villages, is co-president of her neighborhood women's club, helps to run a card game at Bacall rec center and volunteers for the brown bag program for Wildwood Middle High School track team.

Jill has moved many times in her adult life, buying and selling over 8 homes in Indiana, California and Florida. She is a pro at moving and packing! She was able to sell all those homes in less than two weeks, find out her secret! Her goal is to make this buying and selling experience as smooth and stressless as possible for you. And she has done a great job, ask any of her customers that rave about her. She will match you with the perfect home for you.

Jill and her husband, Jim are parents to two beautiful adult children Kesli and Garrick. They are proud to say that both graduated from Purdue University with jobs and are doing very well out in the world. She and Jim are also pet parents to two very friendly Sphynx cats, Harry and Molly.