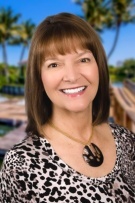 Jody Zartman
Treeline Realty
Lic. #582177 (FL)
Integrity and character are very important in the way Jody Zartman conducts her business, and she firmly believes that "our character is what we do when we think no one is looking." Jody's experience in dealing with listings, short sales and foreclosures, in addition to her experience as a buyer's agent, gives her the right tools to bring transactions to a successful close.
Jody cares about people and understand their needs. She appears to be educated to assist in what it takes to move from another state.
October 26th, 2020
Jody is very thorough, professional and has guided us through the process with great care and expertise. She is very knowledgeable of the communities she serves.
September 20th, 2019
My husband and I were planning a move to Florida. We started our search for a home on-line. We found the 55 Places website and contacted them for additional information.
September 15th, 2019
Showing 1 - 3 of 58 reviews