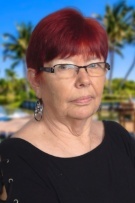 Judith Colclasure
Scuttina Signature RE Group
Lic. #3320792 (FL)
Judi Colclasure has been in the real estate industry for 30 years. Judi started in Atlanta, GA and built a very successful business by managing and selling homes throughout the Metro area. With her knowledge and expertise, Judi moved to South Florida in 2008 and started training teams of real estate agents.

In 2015, Judi decided to start her own team and joined Stein Posner RE Services in Boca Raton.
This is a great team lead by Judi. She has tremendous patience and listens. She is not only a realtor, but she and Sid became our friends and sounding board.
June 16th, 2020
Judi and chuck are the BOMB!!! Honestly I was a little nervous at first with meeting a realtor but when I started to get to know them I realized they were in this for me.
June 16th, 2020
Judi was very professional and personable. She listened and showed me exactly what properties I was interested in. She is very knowledgeable in her profession.
April 18th, 2020
Showing 1 - 3 of 8 reviews