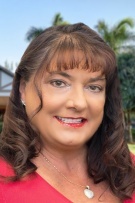 Signature International Real Estate
Lic. #3307866 (FL)
Contact Me
As a former paralegal, Karen understands legal terms and can clarify the complicated language found in a residential purchase agreement. Her own personal experiences of buying, selling, remodeling, and custom home building is an asset for her clients. Having lived it herself, she can walk her clients through any challenges they may encounter. Should a stressful situation occur, especially for first time home buyers, Karen has the expertise, confidence, skills, and ability to resolve issues.

Buying a home is one of the biggest decisions someone makes. Karen enjoys the process from start to finish. When working with buyers she acts as if she is purchasing the home for herself. She has a natural ability to quickly analyze a home and make recommendations on how to change any negatives into positives.

After graduating from FAU she used her entrepreneurial skills, advertising, and Marketing degree to start her own business. While owning her company, for nearly 20 years, she acquired clients in large healthcare systems, physicians' practices, home health care facilities, computer IT service companies, restaurant franchises, golf club communities, and the business broker industry.

All are very unique industries. Karen's vast marketing and advertising experience will contribute immensely toward the sale of your home. As a buyer via her exceptional research ability, emotional intelligence, and personal connection she will find the home that meets your needs and put your mind at ease – from the home shopping process to the closing. Karen is a "Hands-on Professional". Her excellent organizational, marketing, advertising, negotiation, and communication skills will immensely contribute to your buying and selling experience.