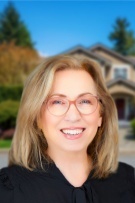 Samson Properties
Lic. #0225218739 (VA)
Contact Me
Kathy's success in real estate comes from her ability to connect with her clients and understand their needs. She embraces the opportunity to work with each client to ensure they find the right place to call home. Although well acquainted with most of the Northern Virginia market she specializes in working with clients who are simplifying their homes and settling into retirement.

Born in New York, she grew up near the Jersey Shore. After college she enjoyed a fast-paced career in the airline industry, working in account management & sales for Fortune 500 domestic and international airlines. She eventually settled in the Washington, DC area, worked in the public and higher education sectors until her real estate career took hold. She has since leveraged her sales and marketing experience into a thriving real estate career. What she likes most about the Washington, DC area is her appreciation of the well-educated, highly talented people, along with the many cultural and historical attractions the area has to offer.

Married to a southern gentleman, she has raised two beautiful children and served on multiple parent and community organizations. She prides herself on local community knowledge is happy to provide invaluable insight to her clients during the home buying process.