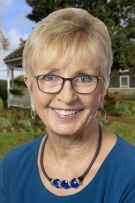 Kathy Sperl-Bell
Active Adults Realty
Lic. #RB-0003574 (DE)
Kathy was born in Flushing, NY, like so many others from the NY Metropolitan Area. In fact, it is amazing how many people she meets in real estate or just socially that were also born in Flushing General Hospital.

Before real estate, Kathy had several interesting careers.
Active Adults Realty was a pleasure to work with. Elliott Welan was our real estate agent. He took us to see both resale properties and new construction.
December 20th, 2018
Kathy was a huge asset in assisting me with the purchase of my new construction home. She was a true advocate for me and my interests when dealing with the builder.
December 29th, 2016
When my husband and I decided to retire we never imagined we would find ourselves living in Lewes, DE.
December 14th, 2016
Showing 1 - 3 of 6 reviews