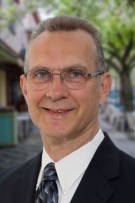 HomeStead Real Estate Co.
Lic. #0560750 (NJ)
Contact Me
Ken has been a real estate professional since 2005 and works hard to accomplish your goals. He is a thorough, results-orientated leader and an expert facilitator. He has been a professional business manager since 1998 and co-owned a real estate company in Morris County, New Jersey, where he lived for 17 years. Ken is highly motivated, extremely dedicated and is known to be a flexible team player. You can count on him to go above and beyond in his efforts to meet the needs of his clients and accomplish their goals.

Ken has considered Cape May to be his second home since he met his wife Sandy in 1980. She grew up in the area, and her family has roots all the way back to Cape May's whaling days in the 1600s. Sandy, her family, and her friends, have been Ken's guide in everything Cape May, and in 2009 they made it their permanent home in a 55+ community.

Ken stands out not only because of his expertise and willingness to work hard to serve you, but also because of his ability to be accessible and keep you informed. He is a firm believer in professional development, has taken numerous training and continuing education courses and has earned several real estate designations, including Seniors Real Estate Specialist.

Whether you are buying or selling, Ken's goal is to serve you with reliability and dedication by professionally managing all the details to ensure you have a successful transaction.