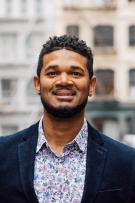 Keller Williams NJMG
Lic. #1968210 (NJ)
Contact Me
Kevin Collymore, BBA, is a Realtor whose drive, personable nature, and compassion have all earned him a reputation as a service-centered leader. Calling New Jersey home for the last 29 years, he is well-versed in the local marketplace and has the ability to expertly match up buyers with the homes of their dreams as well as strategically sell homeowners or Investor properties in record time for top dollar. He prides himself on offering a level of service that is second to none and is a continuous student of his industry which in turn makes him an expert in everything Real estate related.

After a decade-long, award-winning sales and management career, Kevin decided to enter the real estate industry full force. From the get-go, he began working closely with sellers rather than going the typical route of solely representing buyers and has had huge success . Today, he utilizes the challenges throughout his life as a testament to what others can achieve regardless of any roadblocks along the way.

In addition to his commitment to success, Kevin is infinitely passionate about giving back to his community. Currently, he is a proud part of two initiatives: the young professionals network for his real estate board and the American Red Cross, where he not only responds to Disaster emergencies and victims but he corresponds with the media during disasters and conducts public building evaluations for risk ratings. Above all else, he is a dedicated family man who always puts them top of mind in anything he does.