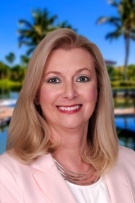 Kim Noble
DomainRealty.com LLC
Lic. #SL3125142 (FL)
Being a native of Aurora, Ohio, near Cleveland, Kim was raised with mid-western values. Those values ingrained in her a strong work ethic that enabled her to develop a successful career in real estate spanning nearly two decades.
...Read More
Terry S.
My Husband and I found Kim through 55+ and couldn't have been happier.
...Read More
August 25th, 2018
Emela S.
When had our home listed for sale once before we hired Kim Noble. The difference between Kim and our previous agent was like night and day.
...Read More
August 22nd, 2018
James P.
Having lived in the Northeast all of our lives, we entered the Florida housing market with two great unknowns, 1) we didn't know the area or pricing well, and 2) we didn't have a .
...Read More
May 26th, 2018
Showing 1 - 3 of 15 reviews