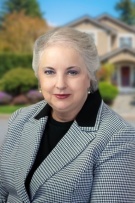 Weichert Realtors, the Griffin Co.
Lic. #SA00078167 (AR)
Contact Me
You probably know how important it is to find the right real estate agent when you are focusing on a financial investment as substantial and as personal as your home. What you should know about Kimberly is that, as a REALTOR, is that she believes wholeheartedly in the unique, personal nature of real estate. You will see that revealed in how she follows through on what she promises, as she carefully guides you through the many steps and decisions along the way. She is fully committed to providing you with what my company calls - a noticeably higher level of service that will make your real estate experience as easy and as stress-free as possible.
You can expect from Kimberly:
Personal and knowledgeable service that is genuinely responsive to your needs
A Neighborhood Specialist, familiarity with local communities, home values, and price trends
Top professional skills continually refined through Weichert training programs respected industry-wide
Advice and guidance throughout the entire process
Commitment to help you leverage many resources. She can save you valuable time and effort in securing home financing, insurance, and home connections.
Feel free to contact her anytime, whether it's to get started on helping you realize your goals and dreams, or just to ask a question. She welcomes the opportunity to make a difference for you.