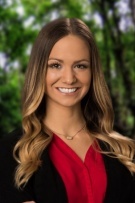 eXp Realty, LLC
Lic. #98518 (SC)
Contact Me
After spending years working for the #1 builder in America, Mallory is so excited to be able to now use her background and knowledge to offer clients the best all-inclusive home buying experience! In 2016, after graduating from Appalachian State University with a degree in Accounting, Mallory moved to Columbia for an opportunity to work for the Nation's Largest Builder. She was looking for a career that emphasized building personal relationships and helping people achieve their goals and dreams – and found her passion in helping people make one of the most important decisions of their life, buying a home!

In her time working for the Nations Largest Builder, she had the opportunity to sell in one of Columbia's premiere communities. Selling on-site for a multi-price point, 900+ home community gave her vast experience in working with first-time homebuyers, retirees, Veterans, and anyone in-between. In her year-and-a-half there, she was able to assist over 100 families with purchasing their dream home. While she may not have many years of experience behind her yet, there is a wealth of experience in her years.

Mallory has taken an interest in specializing in the active-adult and retiree population. She has an extreme attention to detail, coupled with patience that eases her buyer's minds when looking for their perfect community, and forever home. She realizes that finding the perfect place to retire is an overwhelming process that may take months, or years to prepare for, and she takes joy in being a helping hand throughout the entire process.

Whether you are buying your first home or your 7th, it is still important to have someone by your side to guide the process, making it smooth and seamless. That is what she excels at! Mallory understands that purchasing a home is both an emotional and financial decision. Her accounting degree, as well as career as an on-site sales agent, have given her a very unique perspective and skill set! She absolutely loves helping people make the largest purchase decision of their life be their easiest one!