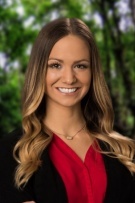 Mallory Warner
eXp Realty, LLC
Lic. #98518 (SC)
After spending years working for the #1 builder in America, Mallory is so excited to be able to now use her background and knowledge to offer clients the best all-inclusive home buying experience! In 2016, after graduating from Appalachian State University with a degree in Accounting, Mallory moved to Columbia for an opportunity to work for the Nation's Largest Builder.
I rarely rate anyone or anything 5 stars, but Mallory is someone who deserves that rating.
January 15th, 2020
We were moving to South Carolina from out of state and found Mallory by divine providence.
November 14th, 2019
Mallory is the best real estate agent we have worked with in a long time. She is precise and punctional and is an excellent communicator.
November 2nd, 2019