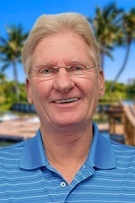 1st Florida Realty LLC
Lic. #BK3279537 (FL)
Contact Me
After graduating from the University of Florida, Mike spent time in graduate business school until he was offered a position in the commodities industry. Working his way up the ladder, Mike became a director of a London based commodity firm dealing in Metals, Softs, and Currencies. After a long twenty-years, he felt the daily trading pressures were finally wearing on him, so Mike returned to the USA looking for a change. He found an opportunity in telecommunications using some of the new technology and his international client base from trading overseas to set up an international telephone company which he ran for 17 years.

Throughout his business career, Mike always bought and sold his own properties. Some he had to fix up to sell, while others he did not. From stone homes in Europe to wooden structures in the USA, Mike always enjoyed working and renovating homes as a profitable hobby. When he moved back to Florida in 2011, the market was just recovering after the price declines in 2008-2009, and it seemed like a good time to get more involved as a real estate agent versus just a private buyer. Mike started with residential sales in and around the beach but quickly moved to the faster-paced foreclosure market which was extremely active for a few years. Now that prices have stabilized and foreclosures have slowed, joining a firm like 1st Florida Realty who has access to some of the higher-end homes and condos in the area made good sense.

Mike brings a fair amount of financial and business experience to the table. He enjoys working with home buyers and sellers whether downsizing, retiring, looking for winter escape home in Florida, or seeking an opportunity to buy and sell for a profit.