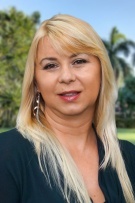 Monika Kattana
Century 21 Tenace Realty
Lic. #SL3252327 (FL)
After 13 years of legal experience with a major US corporation and 10+ years of real estate investment experience, in 2011 Monika became a full-time real estate professional. Her philosophy is that developing relationships and creating outstanding customer satisfaction is more important than anything else.
...Read More
Terry K.
Monika is the best real estate agent I or any of my friends ever used. You would be well served and lucky to
have the privilege of working with her.
January 29th, 2019
Monika K.
Monika is a very intelligent and very knowledgeable.
I really felt that I was in good hands with her.
William from boynton beach fl
January 2nd, 2019
Nasser F.
Monika is very helpful and respectful
Nasser/ Boynton Beach
October 24th, 2018
Showing 1 - 3 of 25 reviews