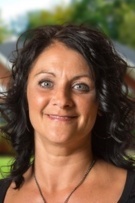 Resource One Realty, LLC
Lic. #94-84750 (WI)
Contact Me
After 20 years in an Information Technology Support role, Nancy was faced with the results of a company restructure - her position was no longer needed. Yes, you read that right, Information Technology. Why does she share this, and why real estate? Simple. She made the switch to real estate to be able to help and connect with people on a more personal level. Buying and selling a home is one of the biggest decisions you will make in your personal life, and she wants to be a part of that journey.

From Nancy's attentiveness to details and adhering to timelines to her strength in achieving goals, communicating, teaching, and problem-solving, all are the perfect fit to provide you with the highest level of service as your real estate agent. It is her goal to exceed your expectations on every level, giving you the best experience possible when buying or selling your home.

Nancy is here to educate, guide, and support you throughout the entire home buying and selling process. Because of this, you can feel confident that you are making an informed decision. A decision that's right for YOU.

Nancy also understands that every person has different needs. Her personalized approach allows her to create the best solutions that work for YOUR needs. Being your single point of contact, she does everything in her power to make the process as smooth as possible for you while working diligently, both day and night, to produce the results you desire.