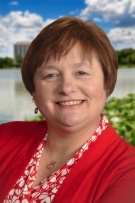 Florida Plus Realty
Lic. #SL3417422 (FL)
Contact Me
Norma moved to Florida from Wisconsin in 2018 with her husband to escape the Midwest winters and enjoy the Florida sunshine year-round. She now lives in the 55+ community of Plantation near Leesburg.

Norma's background includes management and over twenty years of purchasing experience which she obtained while working as a purchasing manager for a Wisconsin based insurance company and later as a senior purchasing agent for UW Hospital and Clinics. She was heavily involved in negotiating multi-million-dollar contracts that would offer the best patient care for the best price. Norma also holds a bachelor's degree in elementary education from the University of Northern Iowa, and she uses her combined previous experience and education to drive deals forward while making sure that her clients are well informed and taken care of at every step of the way. She focuses on making connections with both buyers and sellers to help make these real estate transactions and life transitions easier.

When she isn't guiding her clients through the home buying and selling process, Norma's hobbies include taking long walks, biking, music, playing piano, and reading. She is currently in the process of learning pickle ball, which she plays with her community. She also hopes to take a bike excursion through Holland in 2020.