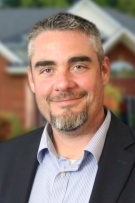 eXp Realty LLC
Lic. #0618068 (TX)
Contact Me
Paul Fritz, Jr is a licensed real estate agent serving Dallas and Ellis County for more than 7 years. With 15 years of experience in the real estate industry, Paul is skilled in Negotiations, Facility Management, Real Estate Investment, Pre-Existing & New Home Sales, and Real Estate Asset Management.

Paul's passion for teaching and serving others really sets him apart in the real estate industry. His purpose is to Encourage, Enlighten, and Empower others; and he does this in business by educating and guiding people through the process of making one of life's biggest financial decisions. The home buying and selling process can be long and confusing, and it is important to Paul that his clients understand every step along the way. He goes to work every day with each client's goals in mind, never trying to fit them into a situation that isn't perfect for them simply to sell another house. Paul measures success based on the happiness of his clients, not on a dollar amount or number of completed transactions. He also serves as a mentor to new agents through the EXP Mentorship program.

Paul also partners with and serves the communities in which he lives and works through volunteerism at church, schools, and community little league, as well as financially through sponsorships and the scholarship programs he developed.