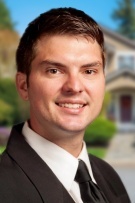 Premiere Realty Group
Lic. #6501376392 (MI)
Contact Me
Enthusiasm and a zest for life are two of the driving forces behind Ryan's real estate practice and life. He brings a positive attitude to everything he undertakes. He finds that doing it right the first time eliminates the problems and conflicts that can plague real estate transactions. While Ryan embraces technology as a tool to help him communicate with clients and market his listings, he also believes in old-fashioned activities like answering his phone, listening carefully, and being responsive to his client's wants, needs, questions, and concerns.

He attributes much of his success to his attention to detail and the ability to develop a good working rapport with everyone. Ryan prioritizes finding out how he can best help hid clients and giving them the information they need to move through the process of buying or selling a home with the least possible stress or uncertainty.

Ryan's favorite part of being a REALTOR® is the opportunity to become acquainted with so many interesting people and help them realize their goals. Real estate is a relationship-based business, and he creates client relationships built on trust and confidence.

When you want an agent, who gives freely of his time, attention, and expertise, call Ryan!