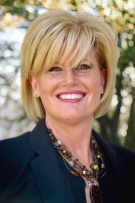 Southern Classic Realtors
Lic. #295851 (GA)
Contact Me
Terri greatly enjoys her work as a Realtor in the Greater Atlanta market and is successful in working with both buying and listing clients. The relationships she builds are very important to her because she knows that people buy homes from people they trust, so she works very had to achieve that.

Terri has worked in several different avenues of the real estate market throughout her career. However, working with the 55+ community is especially rewarding. She is very knowledgeable in regard to her market understanding and offers an incredible level of service to her clients. She is well known in the community and has extensive information to offer. Whether it is viewing the community and surrounding areas with prospective residents or listing a current resident's home for resale so they can move on to the next chapter of their lives, she is ready and willing to take care of her clients.

Terri also offers a concierge level of service and will take exceptionable care of each and every one of her clients. They will receive her undivided time and attention directed to their own personal needs, and they will close on their homes knowing that they have been well represented. Terri loves her career and it shows in her service!