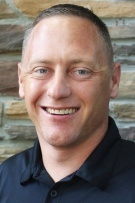 Avid Realty
Lic. #20200072 (NE)
Contact Me
Theron Ahlman is a licensed realtor in Nebraska and the only one in Nebraska that is also a Certified Senior Advisor (CSA) where he has taken additional training to better guide seniors. He has a degree in marketing from the University of Nebraska, was born and raised in Lincoln, NE, and has lived in Nebraska his entire life.

He is co-owner of Avid Realty and has over 25 years of experience helping clients and families find the right place or product for their specific needs. He has personally built a custom home and is excited to share that experience with others while helping guide families through the process. Whether you are selling or buying a house, you can feel confident that he will have your best interest at heart while helping you get what is best for you at the best price.

Theron's love for people is seen in his volunteering to coach youth sports, active on various committees and boards, he was a volunteer with the Raymond Fire & Rescue department, and helping start NeFigure8n, which promotes figure 8 racing at the county fairs in Nebraska.

Theron is married to Brooke, and they have two kids, Brystal and Gage. Brooke is a native of Pierce, NE, and grew up on the family farm. Their family enjoys camping, cage kart racing, and spending time with friends.