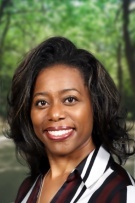 eXp Realty, LLC
Lic. #411362 (GA)
Contact Me
Vernita E. Davis is a Realtor who is certified in Housing Counseling and a Relocation Specialist, servicing sellers, buyers, and investors. She grew up in Miami, Florida before her family settled in the Atlanta metro area in 2018. She graduated received a Bachelor of Science in Finance from the University of Florida. Later she received an MBA in Management and MS in Leadership from Nova Southeastern University. She is also a successful entrepreneur and has owned several businesses and is currently the co-owner of Sivad Capital, LLC, a financial investment company in Florida.

Before transitioning into real estate, Vernita's earlier career as a Loan Officer and Loan Processor. She has been a successful financial professional for over 20 years as a Financial Analyst gaining experience in the real estate investment industry, government contracts, federal, private, and public grant management.

Vernita is excited to apply her passion and love for helping people through real estate. She is a certified housing counseling and relocation SpecialistShe strives to offer exceptional service by her dedication, commitment, attention to detail, and understanding her client's needs in finding their dream property. Her clients are amazed by her top-tier service and exceeding their expectations.

Vernita enjoys spending time with her family, traveling, and experiencing new restaurants.