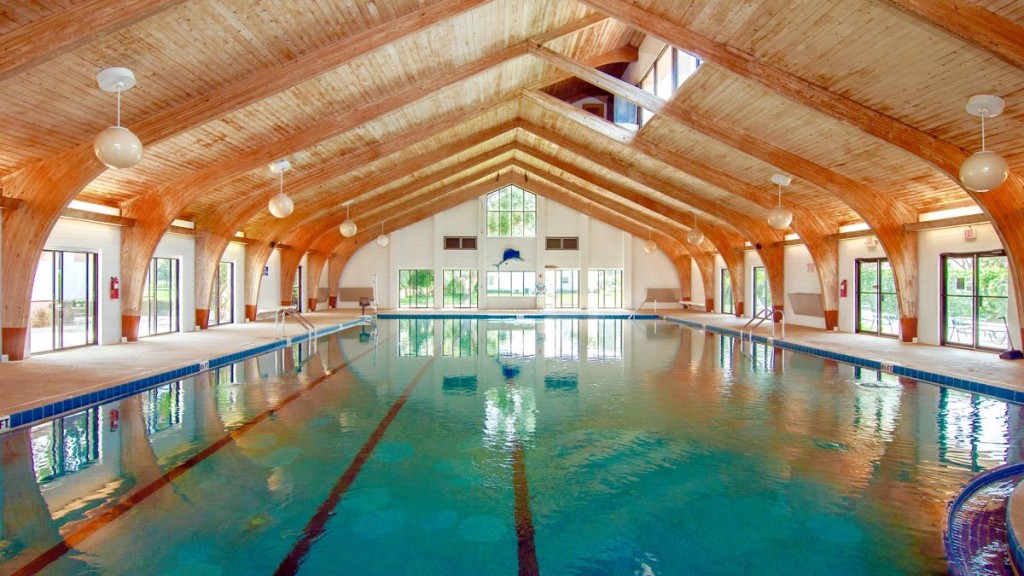 Don't let Jack Frost get in the way of your daily activities or social life just because it's chilly outside. Staying active during the winter can be done easily if you take advantage of great amenities in your active adult community.
There are multiple indoor and outdoor amenities that provide social spaces that will keep you healthy, active, and entertained. Even better, there are many that can even be enjoyed without having to step foot outdoors.
But for those who love the wintertime, there are also fun amenities available that will get you hopping like a snow bunny this season. Here are just ten amenities to take advantage of this winter:
Card & Game Rooms
Stay warm and cozy in the many card and game rooms available to residents. Here, you can play a game of hearts to your heart's desire or challenge your neighbor to a friendly game of spades or pinochle. These rooms are perfect for spending time with friends and family or they can be used for some alone time when you want to play a game on your own.
Billiards Rooms
While one pool may be closed for the winter season that doesn't mean you can't enjoy a different kind of pool, and by that we mean billiards. This great amenity is fun for all and can be played in a variety of ways. You can play 8-ball, 9-ball, one pocket, and 14.1. Practice shooting on your own or join a billiards league to compete with other teams, and if you've mastered the cue you might be able to take home a trophy to show off to your friends.
State-of-the-Art Fitness Centers
We tend to get a bit sluggish during the winter months thanks to the shorter days and limited sunshine. But that doesn't mean you can't stay physically active. Many active adult communities feature lavish state-of-the-art fitness centers that are well equipped to keep you in shape all year long. Take advantage of the cardiovascular machines and weight-training equipment and shed those winter pounds away.
Ballrooms
Ballrooms are great social spaces where residents often gather for community events and parties. You can dance the night away with great music or attend a social function with other residents like a New Year's Eve party.
Ballrooms are also used as multi-purpose rooms that can be transformed for other things like craft fairs, a performing arts theater, bingo nights, movie nights, dinner parties, or bake sales. Sun City Huntley in Illinois is one of the many active adult communities that features marvelous ballrooms packed with fun events.
Arts & Crafts Studios
Get your creative juices flowing in the arts and crafts studio. These crafty rooms are fun for anyone who wants to explore their artistic side. So go ahead and paint that masterpiece you've always wanted.
Indoor Pools & Spas
Nothing is more relaxing than swimming at the indoor pool or soaking in the hot tub. Many clubhouses in active adult communities like Anthem Ranch in Broomfield, Colorado offer this wonderful amenity for its residents.
Indoor pools are typically set at a warm temperature so you never have to worry about getting a chill when going for a swim in these mild waters. You can also take advantage of the indoor spas where you can soak your muscles and stress away.
Libraries
Bookworms tend to unite at the library for the latest novel and a quiet retreat. When the snow builds up outside and the temperatures fall below zero, the library is the perfect oasis of books and cozy, warm quarters for your reading pleasure.
Walking & Biking Trails
Bundle up and head outside for a leisurely stroll, light jog, or bike ride around the well-paved walking and biking trails. Sometimes staying indoors for too long can cause cabin fever so it can be fun to brave the cold, crisp air outdoors for a bit of exercise and relaxation. You can enjoy the beautiful winter scenery and nature right before your eyes.
Fishing Lakes
Fishing is another great amenity you can take advantage of this winter. Just because the snow is out doesn't mean the fish go away. Some great fishing can happen during the winter months and it can also be a relaxing pastime that lets you appreciate nature. Fishing is a great activity that can be done alone or with a group of friends too.
Tennis Courts
Believe it or not but you can enjoy playing tennis outdoors during the winter months. Just add a few more layers of clothing and change your equipment for cold weather play.
Experts recommend that adjusting your racquet's stringbed to a softer string type will help absorb more vibration when hitting the ball. If you choose to retire in a warmer climate you'll never have to worry about a snowy court. So are you ready for a match in January?