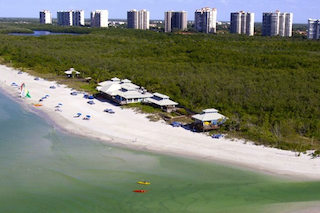 Florida's Naples area is a popular destination along the beautiful Gulf of Mexico. Active adults can enjoy beautiful beaches, recreational attractions and resort-style communities with a number of on-site amenities. If you are interested in the Naples area, consider one of these fabulous communities.
1. Pelican Bay Open to residents of all ages, Pelican Bay offers luxurious living that is perfect for active adults. The 6,500-home community offers a variety of resort-style amenities, including 27 holes of golf, hobby and game rooms, and sports courts for activities like tennis and basketball. Pelican Bay also features an exclusive three miles of Gulf of Mexico beachfront.
2. Lely Resort Homebuyers at Lely Resort can choose from a diverse mix of resale and new construction homes in sizes and prices to meet nearly any budget. Though it's open to all ages, this resort community features all the amenities needed for an active adult lifestyle. Highlights include two spacious clubhouses, state-of-the-art fitness centers, sports courts, a full-service spa and a 90-seat movie theater.
3. Vineyards With plans for 2,733 homes, Vineyards is an open-age community which features two 18-hole golf courses, 12 Har-Tru tennis courts, swimming pools, restaurants, hobby and game rooms, and much more. Amenities are offered through a main clubhouse and with satellite clubhouses spread throughout the various neighborhoods.
4. VeronaWalk Luxurious living at VeronaWalk includes a beautiful Town Center area where residents can enjoy resort-style amenities, as well as daily conveniences, such as a bank, beauty salon, gas station and car wash. The community is open to all ages, yet active adults will love the on-site restaurants, swimming pools, hobby and game rooms, and sports and fitness facilities.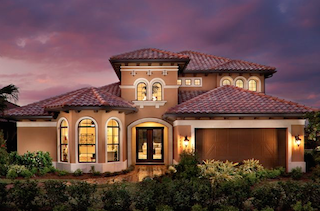 5. The Isles of Collier Preserve Opened in 2014, s a brand new community featuring single-family and coach homes that are ideal for active adults. Upon completion, the development is expected to include 1,649 homes, as well as a spacious clubhouse with a number of resort-style amenities. It also features a prime location just four miles from Downtown Naples.
6. Heritage Bay Built between 2005 and 2014, Heritage Bay is a country club community which particularly appeals to golf and tennis players. Three 9-hole golf courses let players enjoy variations to create an 18-hole game, while seven Har-Tru tennis courts include a grandstand center court. Additional amenities include an 8,000 square-foot fitness center, hobby and game rooms, and the Grill Room Restaurant.
7. Treviso Bay Since opening in 2012, Treviso Bay has been attracting active adults with a variety of upscale homes, a beautiful 18-hole golf course and plans for a luxurious, 40,000 square-foot clubhouse. Upon completion, this 1,300-home community will feature many desirable amenities, such as a state-of-the-art fitness center, casual dining, hobby and game rooms, sports courts, and a swimming pool.
8. The Quarry Set in North Naples, The Quarry is an upscale community which has plans for just 900 homes, as well as an exciting line-up of social and recreational amenities. Highlights of this lovely development include an 18-hole championship golf course, outdoor swimming pools, a fully equipped fitness center and scenic lakes for fishing, boating, and other water-based activities.
9. Village Walk Active adults looking for a smaller, well-established community will love Village Walk. This 850-home development was built between 1995 and 1998 with homes in both attached and single-family styles. The spacious clubhouse offers resort-style amenities including swimming pools, sports courts, a fitness center, scenic fishing lakes, and an on-site restaurant.
10. Marbella Lakes With just 490 homes, Marbella Lakes offers a tranquil retreat for active adults and residents of all ages. This beautiful development was opened in 2009 and completed in 2012, yet homes are still available on a resale basis. Amenities include a three-and-a-half-acre waterfront recreation area and an 8,000 square-foot clubhouse. Residents can enjoy sports courts, a fitness center, an outdoor swimming pool, and much more. A prime location in the Naples area, along with resort-style amenities and upscale homes, makes any of these communities a fabulous destination for active adult retirees.