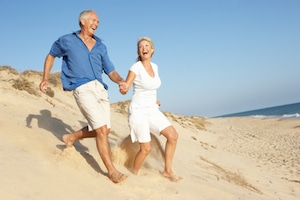 Traveling during the cold winter months is a great way to explore the country's warmer areas in their less-crowded off season. And the United States has no shortage of sunny year-round destinations. Check out these popular getaways from the American South, Southwest and West Coast.
1. Key West, Florida
Key West is a tiny island that spans just five square miles, yet it is big on personality. This tropical getaway has been home to many famous residents, including Ernest Hemingway, Harry Truman, Tennessee Williams and Jimmy Buffet. The island town has a funky, artistic vibe, along with the nightlife and cultural attractions you would expect to find in a much larger city.
2. Charleston, South Carolina
Antebellum mansions, historic churches and horse-drawn carriage tours can make a trip to Charleston feel like stepping back through time. Along with the city's cobblestone streets and Rainbow Row of townhomes, Charleston offers plenty of modern attractions. There are trendy restaurants and boutiques, lively bars and charming cafes. Beach lovers may also want to check out Sullivan's Island or Isle of Palms.
3. Miami, Florida
Tropical beaches, urban attractions and fabulous resorts make Miami a great winter vacation spot. With a location far south along Florida's East Coast, Miami features the best of both city and natural attractions. Locals and visitors alike can enjoy Cuban culture in Little Havana, stroll beach boardwalks and explore the nearby wetlands and nature preserves.
4. Palm Springs, California
The Palm Springs area is known for its upscale resorts and fabulous golf courses, yet the desert region offers so much more. The Design District is an ideal place to find everything from high-end designer styles to retro-chic vintage finds. Luxury resorts pamper visitors with full-service spas, fabulous restaurants and poolside lounge areas.
5. South Padre Island, Texas
While South Padre Island is a Spring Break hot spot, it's also a hot winter destination that can be great for active adult retirees. The long, narrow island features a strip of resort hotels and nightclubs with beautiful beaches along its sandy shores. Going in the winter lets active adults miss the springtime rush of college kids and have the party scene all to themselves.
6. Tucson, Arizona
Set in Southern Arizona, Tucson features warm weather all year long. This desert getaway features a rich cultural history mixed with modern-day attractions. Tucson has a thriving art scene, as well as a fascinating variety of Spanish-colonial architecture and Native American heritage. Visitors can explore historic sites like Dankworth Village and Tubac, or enjoy the beauty of local nature preserves.
7. San Diego, California
In Southern California, San Diego is a hot spot for tourists and locals alike. The West Coast city boasts a thriving nightlife, diverse shopping districts and world-class restaurants. Its beaches and boardwalks provide coastal entertainment along the Pacific shore, while its unique neighborhoods offer their own personal charm. Area attractions include the San Diego Zoo, SeaWorld and horse races at Del Mar.
8. Austin, Texas
Known as the Live Music Capital of the World, Austin is a great place for active adults who love sunny skies and a rockin' social scene. Austin boasts great urban attractions, along with its own blend of laid-back, artistic style. Try some Tex Mex at a popular food truck, stroll through a museum or art gallery, and take in the vibe of a city whose slogan is "Keep Austin Weird."
9. Napa Valley, California
Known for its world-famous wine region, Napa Valley is a fabulous place for a winter vacation and a natural choice for wine lovers. The area features 70 degree weather year-round, as well as lush, scenic beauty. It is also home to the Culinary Institute of America and an impressive number of Michelin-starred restaurants.
10. Maui, Hawaii
If you're willing to leave the continental United States, a trip to Maui is sure to make you forget about the cold weather back home. This Hawaiian getaway features unforgettable scenery and tropical culture, and during the winter months it is one of the world's best locations for viewing humpback whales.
For the most sunshine, look for a destination in West or South Maui. What's your favorite place to enjoy warm weather during the cold winter months? Let us know in the comments below.