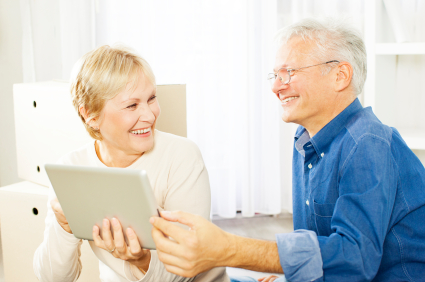 There is a lot to do when shopping for a new home. Whether choosing from age-restricted active adult communities or from open neighborhoods, it's important to research the location as well as the home itself. You will also want to explore on-site amenities, find out what other residents think of the neighborhood and understand any required fees, taxes and other cost of living expenses.
This list of home shopping essentials will get you started on the right path for your adventure to discover the perfect home.
1. Check out the location's history and reputation.
Any real estate professional will tell you that location is a large part of a home's future value. Find out as much as possible about a potential location's history and reputation. When did the city or town develop? Is it in a boom period, in decline or currently being revitalized? Homes in more popular areas usually come with higher prices, but they are also more likely to hold their value.
2. Walk through the community.
Online research is a great way to narrow down your search and close in on an ideal retirement destination. However, you will want to visit your chosen community in person before making any final decisions. Walking through a community, and possibly trying out the amenities, is the best way to test the waters before buying a new home.
3. Talk to the residents.
While visiting potential new communities, make an effort to talk to the current residents. They are likely to have more inside information than your real estate agent, and give you a good feel for the atmosphere of the community. Ask about social clubs, community events and home quality, but remember that everyone will have their own opinions and they might be different than your own.
4. Understand the homeowners association fees.
Planned communities, either age-restricted or open-age, typically have a homeowners association to manage the neighborhood and maintain common areas and shared amenities. Find out the cost of your monthly homeowners association fees and what services (such as trash removal, lawn care or snow removal) are included.
5. Ask about memberships and which amenities are included.
In active adult communities, social and recreational amenities may be open to all residents or only available to those who purchase an optional membership. In a country club community, the cost of an annual membership can make a big difference in how affordable your new lifestyle will be. If a membership is required, ask if there are tiered options and which specific amenities are included.
6. Read online community reviews.
Once you've narrowed your search to a favorite location, begin reading online reviews of communities in the area. This is particularly important in active adult communities, which have social and recreational amenities as key selling points. Be sure to check for comments on any reviews to see what readers have to say about the community as well.
7. Investigate recent home resale values.
Instead of simply comparing the current prices of homes for sale in the area, take some time to research resale home prices over the last 12 months. Look at recent sale prices compared to what the sellers paid when they first bought their homes. You can find this information on sites like Zillow.com or ask your real estate agent to prepare a report for you.
8. Research property taxes and utilities.
Your new home's sales price is only one piece of your new investment. While researching a community, it is important to find out how much you should expect to pay for recurring expenses like property taxes and utilities.
9. Discover area services and attractions.
Knowing that an area is popular for its many attractions is not the same as seeing them for yourself. Take some time to explore your potential new town. Browse the nearest grocery store, find the local library, eat at some nearby restaurants and keep an eye out for medical centers, office parks and other important services.
10. Shop around for financing.
Before you begin any home search, it's a good idea to get your finances in order and find out how much you can afford to spend on a house. This often means shopping around for the best financing and getting a pre-approval letter to bring with you when visiting potential new homes. Doing your homework early in your search will make your home shopping more effective and, hopefully, help you avoid potential headaches down the road.