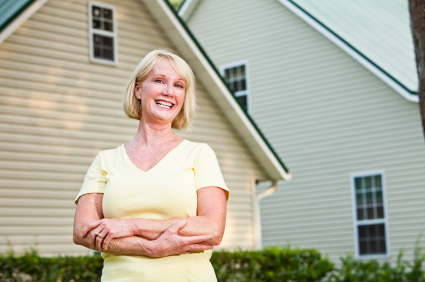 If you're thinking of selling your home in 2014, some simple enhancements may help you find a buyer more quickly. Tackling those minor repairs that have lingered on your to-do list is a great place to start. A few additional updates will really show your home in the best light.
1. Spruce up the front door
Your front door is the first thing prospective buyers will see when visiting your home. Make sure it looks its best. Give it a fresh coat of paint and clean or replace the handleset.
2. Clean and freshen the yard
In real estate, curb appeal attracts buyers the moment they drive by or browse through online listings. Clean up any yard debris, freshen mulch, weed flowerbeds and add a few fresh plantings.
3. Repair gutters
Sagging or clogged gutters will put buyers on high alert for signs of neglect, particularly if it's raining when they come to visit. Clean out debris, tack up any loose supports and replace any sections which are cracked or broken.
4. Caulk and grout showers
Check the condition of showers, tub surrounds and other tiled areas. Replacing cracked or worn grout instantly gives your shower new life. If the grout is in good shape, you may still want to replace old caulk.
5. Tone down bright walls
You may love decorating with bright colors like reds and oranges, but not every buyer will feel the same way. Consider repainting bright or unconventional walls with neutral colors in light tones that make the room feel airy and bright.
6. Paint baseboards and trim
Baseboards and other wood trim are often overlooked in day-to-day living. Touching them up with a fresh coat of paint can make your whole house look clean and new.
7. Remove clutter
When staging your home for sale, pack up some of your belongings and put them into storage until you move. Reducing the clutter will make your home feel more spacious. If you have large furniture, you may want to consider moving some into the basement or garage to further open up the space.
8. Update fixtures and lighting
Updating fixtures in the bathroom and kitchen can be an easy way to bring in a more modern look. You may also want to dress up your home with new lighting, but try to choose simple designs which will go with any décor.
9. Paint or replace the mailbox
Whether your mailbox is on the street or mounted beside your front door, you don't want peeled paint and rusted metal creating an eyesore. Replacing a mailbox is usually an easy, inexpensive repair. You may even be able to avoid replacing it by applying a fresh coat of paint and some new lettering.
10. Clean or replace carpet
Depending on the condition of your wall-to-wall carpeting, you may want to have it professionally cleaned or replace it entirely. If you do decide to replace it, stick with light, neutral colors like beige or pale tan. Whether you tackle them yourself or hire a handyman to help, these simple projects will improve the value of your home without breaking the bank.