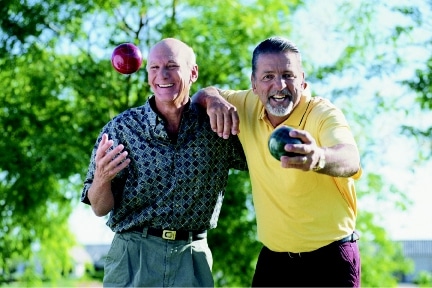 Moving into an active adult community is rife with possibilities to stay active. Whether it means staying physically fit, being more social, or having diverse experiences, life in a 55+ neighborhood means being able to do it all.
So how do active adults choose to spend their time after moving into a 55+ community? We looked into the most frequently occurring lifestyle offerings in the top 55+ neighborhoods in the country. These are the most popular activities, clubs, and events that active adults simply must have.
Pickleball
Invented in 1965 by Congressman Joel Pritchard as a way to pass an afternoon, pickleball soon blossomed into one of the country's most popular racquet sports. Pickleball is especially popular with retirees because it's essentially a low-impact form of tennis, where success depends more upon strategy and placement than pure athletic ability.
Bocce
Bocce's popularity has endured in Europe for centuries and is a relatively recent phenomenon in the United States. Play begins with eight large balls and one smaller ball, called a pallina. The pallina is put into play on the long, rectangular court, then each team attempts to get their four balls as close to the pallina as possible. Bocce is adored for its simplicity, accessibility for people of all ages, and is also more social than other competitive sports.
Mahjong
Another classic game that has enjoyed long-standing popularity, Mahjong originated in China and was introduced to the States in the 1920s. The game is essentially a form of rummy that uses tiles instead of cards. Mahjong is unique in that it requires cooperation and strategy between players instead of competition, making it a great way to meet new friends by working together.
Billiards
Billiards tables are a very common amenity in active adult communities because they take up relatively little space and they look elegant. It's also a game that most people are familiar with and is an easy way to pass the time, either by joining a league or challenging a friend to a game. There are also multiple games you can play on a billiards table (called cue sports), giving players a variety of ways to use the table.
Yoga
Yoga is almost as old as civilization itself. Started in India in the 5th century B.C., Yoga has experienced a renaissance in recent years. Incorporating stretching, breathing techniques, and minor strength training, yoga not only helps you remain physically fit but also helps to calm a busy mind. Retirees are especially drawn to the practice because it can take various forms, accommodating all kinds of body types.
Golf
The perennial favorite of active adults, golf is the quintessential retirement activity. It's so important, in fact, that many 55+ communities have several courses for their residents – or at least advertise that the communities are near courses. Playing a round with friends not only improves muscle tone and weight loss, it's also a social activity you can enjoy with your neighbors.
Holiday Parties
Leading an active lifestyle extends beyond physical fitness – it also includes social activities and community building. That's why holiday parties are so popular in 55+ neighborhoods. It gives residents a chance to catch up with friends and meet new neighbors. If you're away from family on holidays like Thanksgiving or Christmas, community-organized parties are a great way to celebrate with others.
Woodworking
Woodworking is another popular hobby in active adult neighborhoods because it combines mental sharpness with the satisfaction of having produced a tangible product. Most of the larger communities offer a woodworking shop for all residents to use, but the hobbyist with a shop set up in their garage can host woodworking classes. Woodworking provides the unparalleled satisfaction of taking a discarded pile of wood and turning it into a new coffee table.
Book Clubs
It seems that everyone says they don't have enough time to read. Active adults who have a full bookshelf that doubles as a dust collector join book clubs to make a dent on their "to-read" list. Book clubs are a great way to keep each other accountable, to meet new friends, learn something new, and be engrossed in a story all at the same time.
Arts & Crafts
The act of creating an exciting new object has become so integral to active adult living that many 55+ communities have designated arts and crafts studios. Dabbling in arts and crafts is not only a great creative outlet, it's also a hobby that requires dedication, constant tinkering, and the patience to see a project all the way through. The grandkids are also sure to love a handmade gift.