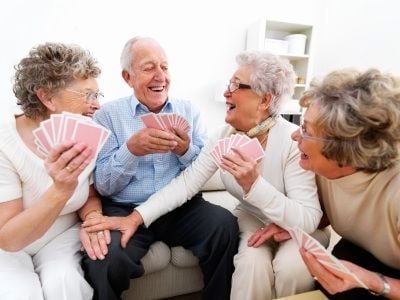 As kids begin to leave the nest, active adults find time to rediscover hobbies and spend time with their friends. The retirement years make it even easier to enjoy a wide range of games, including those that stimulate your mind and keep you feeling young. If you're looking for a new pastime, here are 10 games to consider.
1. Card games
Most active adult communities offer card rooms for group games or tournaments, and card games can easily be held in your own home as well. Some of the more popular card games include bridge, poker, canasta, hearts, and euchre. You can also try specialty games like Uno, Skip-Bo, Quiddler, and Phase 10.
2. Board games
Today's board games cover a wide range of interests. There are traditional games like Scrabble, Monopoly, Cranium, Trivial Pursuit, Risk and Clue. European board games have also gained popularity for their strategic play. A few Eurogames to try include Settlers of Catan, Ticket to Ride, Carcassonne, and Dominion.
3. Puzzle games
Puzzle games are great because they challenge your mind and can often be played alone. These might include crossword puzzles, Sudoku, or word jumbles. They also include jigsaw puzzles, which can be put together alone or with a group of friends.
4. Bingo
This popular social game is a favorite at parties or in community settings, especially when winners are rewarded with prizes. Regular bingo nights are often offered in active adult communities, through churches or at local community centers.
5. Bunco
Like bingo, bunco is a party game that can be spiced up with prize rewards. This popular dice game is easy to learn and fun to play, while still leaving plenty of time to socialize as you go. The game can be played with small or large groups, with partners switching throughout the night.
6. Chess
Chess is a classic game of strategy that can be learned quickly but takes practice to improve. Portable chess sets make it easy to take the game to nearly any location. Many community game rooms and public parks also feature chess tables where players only need to bring their own chess pieces to play.
7. Dominoes
There are several styles of domino games, including draw dominoes, Chickenfoot, muggins, five-up, and the very popular Mexican Train variety. Dominoes also come in different sizes, such as double-six, double-nine or even double-fifteen.
8. Mahjong
Mahjong is a Chinese game that is typically played with four people and a set of 144 tiles. While the basic rules are typically the same, regional variations and house rules can make the game a little different. The game can also be played in a tournament setting.
9. Charades
Indoor games don't have to keep you sitting down. Charades is a classic party game that gets you up on your feet acting out a clue for your team to guess. You can also play reverse charades, where the team acts out a clue, leaving one member to guess. Similar games include Guesstures and Catch Phrase.
10. Video games
The Wii brought video games to a wider audience with players of all ages enjoying games like Wii Sports and Wii Play. The Xbox 360 also has similar games that can be played with its Kinect system. Other popular video games that can be played alone or by competing with friends, include hits like Bejeweled, Candy Crush Saga, Words with Friends, and Draw Something.