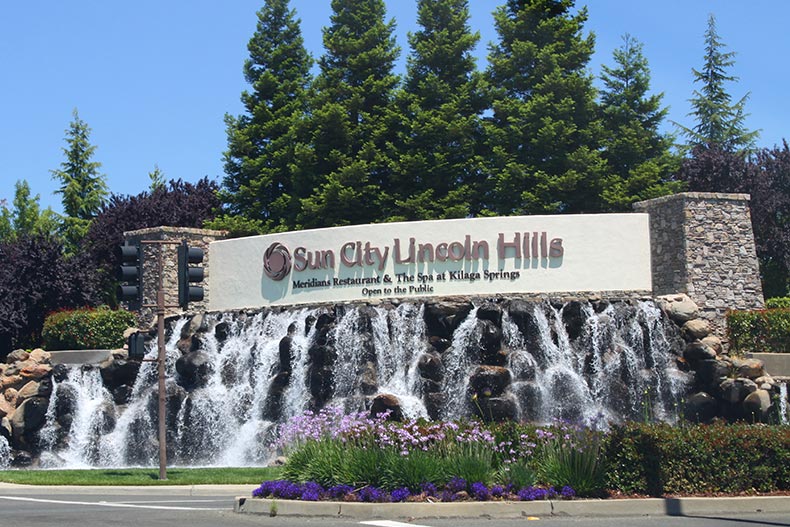 As one of the most popular active adult communities in California, Sun City Lincoln Hills continues to attract homebuyers from across the country. This sun-soaked 55+ community delights residents, who give it nothing but rave reviews.
Read on to discover why residents of Sun City Lincoln Hills are thrilled to call it home.
1. Endless Social Opportunities
Thanks to a full-time activities director, residents of Sun City Lincoln have access to a never-ending lineup of activities, events, trips, and classes on any given day. In fact, there are over 80 active clubs in the community, so residents are able to socialize, hone a hobby, or discover something new.
There's a club to match any interest, from astronomy to West Coast swing. Residents also enjoy numerous planned social events and classes throughout the year, such as happy hours, dancing lessons, bingo nights, holiday parties, and painting classes.
2. Impressive Amenities
With two luxurious lodges, 36-holes of championship golf, and an on-site restaurant and bar, the resort-like amenities at Sun City Lincoln Hills are bar none. The 68,000-square-foot Orchard Creek Lodge boasts an indoor pool, two outdoor pools, a fitness center, an indoor walking track, activity and billiards rooms, and a 15,000-square-foot ballroom.
The 37,000-square foot Kilaga Springs Lodge features a private patio, a spa, an indoor pool, an aerobics room, and an additional fitness center. The Spa at Kilaga Springs offers residents massage therapy, nail care, and facial treatments. The Meridians Restaurant and Bar serves elegant dinners and casual fare for breakfast, lunch, and dinner. The Kilaga Springs Cafe offers quick bites and gourmet coffee.
3. Friendly Camaraderie
Residents of Sun City Lincoln Hills appreciate the welcoming feel they experience from their neighbors, many who become fast friends. Heather M says in her review of Sun City; "Moving here quickly became one of the best decisions I have ever made. My neighbors welcomed me with open arms and introduced me to other singles. I took some classes, went on some day trips, joined a club, and found myself with a new circle of kind, caring, and REALLY FUN friends."
4. Stunning Grounds
The well-maintained and breathtaking grounds of Sun City Lincoln Hills is a favorite feature of many of its residents. This beautiful community is spread across 2,992 acres of expertly landscaped terrain. In addition to the mature greenery and peaceful rolling hills, no cars are allowed on the streets of the community, adding to the tranquil and picturesque vibes.
5. A Wonderful Location
Located in northeast Sacramento, Lincoln Hills is a charming, upscale community within a few hour's drive of many points of interest. The Activities Department at Sun City Lincoln Hills organizes trips to the area's most exciting destinations, from wine tasting in Napa to sight-seeing in San Francisco. Stunning Lake Tahoe is only a little over an hour's drive north, and closer to home, downtown Sacramento offers plenty of museums, restaurants, theater, and shopping.
6. Reasonable Home Prices
With home prices ranging from the low $300s to the mid $1Ms, there's a home for most budgets at Sun City Lincoln Hills. Current homes for sale offer buyers a selection of sizes and styles. Built by one of the leading 55+ community builders, Del Webb, these resale homes boast a lot of value for the money and are surprisingly affordable given the typical high prices of California real estate.
7. A Wide Array of Options
With 6,783 attached and single-family homes in its community, Sun City Lincoln Hills isn't short on options. This sprawling community offers homebuyers a choice of low-maintenance attached homes—perfect for the carefree, active adult who doesn't want a large home and yard to maintain.
There are also more spacious single-family homes, with private yards and extra bedrooms for visitors or hobby spaces. There are over 40 floor plans that range from 901 to 3,068 square feet. The homes offer one to four bedrooms, one to three-and-a-half bathrooms, and a one- to three-car garage.
8. Proximity to Conveniences
Located in the thriving town of Lincoln, Sun City Lincoln Hills is perfectly situated to meet the needs of its residents. It's near everyday conveniences such as grocery stores, pharmacies, and retail outlets. This charming suburb of Sacramento was recently named one of the fastest-growing cities in the country due to its bountiful amenities, beautiful landscape, and world-class shopping and dining.
9. Enviable Weather
California is renowned for its enviable Mediterranean climate, and Sun City is no different. With warm summers, mild winters, and an average of 256 sunny days per year, this sun-filled community provides residents with plenty of outdoor time.
10. Outdoor Activities
Sun City Lincoln Hills provides ample opportunity for residents to enjoy the warm sun. On the property, the multiple pools, the championship golf course, and the 27 miles of fitness trails offer hours of outdoor fun. There are rolling hills, wetlands, creeks, and breathtaking open spaces with pine, oak, and redwood trees as well as other local flora and fauna.
Only 17 miles away, residents can spend the day at Folsom Lake, an 18,000-acre lake and park offering boating, fishing, and trails for hiking and biking. Additionally, visitors may camp, picnic, and horseback ride at the park.