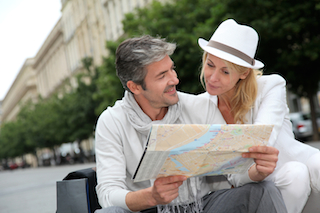 Travel is often cited as a top goal for active adult retirees, but seeing the world as a senior may mean paying extra attention to health issues and a tighter budget. Make the most of your vacations by learning some simple tips for older travelers.
1. Travel in an off-peak season
Retirement lets you travel on your own schedule. To save money and skip the crowds, plan your travels during off-peak seasons. Avoid traveling to popular tourist spots during spring break or summer vacation. Instead, aim for late spring or early fall while kids are still in school. Winter can also be a great time to travel to warmer, southern locales.
2. Pack light
Packing light will save you the effort and hassle of dragging along too many suitcases. Bring fewer clothes and plan to do laundry while you are away. Use a rolling suitcase and a carry-on that can be attached to the larger suitcase when needed. If you do a lot of shopping during your trip, consider shipping your souvenirs home instead of packing them in your bags.
3. Bring plenty of medicine
Carrying a full supply of your medications, in their original containers, is better than limiting yourself to just the number of pills you expect to need. This is especially important when traveling overseas, where pharmacists may have trouble refilling your prescriptions. Remember your vitamins and common over-the-counter medicines as well.
4. Purchase travel insurance
Travel insurance may be more expensive for older travelers, but the expense will be worthwhile if you have an accident or unexpected illness. When shopping for travel insurance, be sure you understand the coverage and find out about any exclusions that may prevent you from getting care.
5. Ask for discounts
Many hotels and attractions offer discounts for visitors over a certain age. These discounted rates are often listed, but sometimes they are not obvious unless you ask. Don't forget to ask about discounts for public transportation and any group tours you may book.
6. Request special accommodations
When making travel reservations, ask about special accommodations that may make your trip more comfortable. At a hotel, you may want a room on a ground floor or near an elevator. When visiting museums or other sites, you may be able to rent a wheelchair to limit the time you spend on your feet.
7. Pace yourself
An itinerary that keeps you constantly moving is likely to wear you out long before the trip is done. While it's nice to book some stops in advance, allow yourself plenty of time to just relax. Allow additional time at attractions as well so you will have time to take breaks without feeling rushed.
8. Plan extended visits
Since retirement offers a more flexible schedule, consider planning more extended vacations. Renting a small home, and cooking your own meals, may be cheaper than staying at a hotel, letting you stay longer for the same price. You may even be able to arrange to swap homes with a friend for a few weeks to really save on accommodations.
9. Book group travel packages
Group travel packages can help you save money, while also providing interesting travel companions. If you live in an active adult community, joining a travel club can help you find out about exciting group travel opportunities and special promotions.
10. Get a check-up before traveling
No one wants to deal with health emergencies while traveling and your doctor may be able to offer personalized advice that can help you avoid problems. For example, your doctor may suggest taking aspirin if you will be sitting for long periods or doing certain stretches to stay limber after increase walking. If you are traveling out of the country, a signed letter from your doctor listing your prescriptions may be useful as well.
These simple travel tips will help you make the most of your vacation time so you can enjoy seeing the world.