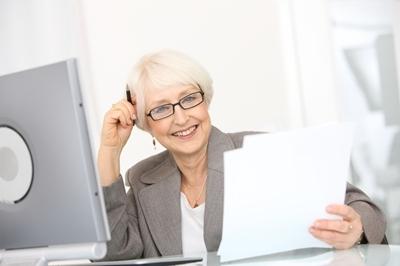 Claiming all of your eligible tax deductions is an important step toward stretching your retirement nest egg. Changes to the tax rules, or to your circumstances, may make you eligible for more exemptions than you realize. These tips will help you prepare for this year's tax return.
1. Get professional help
Depending on your age and income, you may qualify for free tax preparation help through the IRS. The Volunteer Income Tax Assistance (VITA) program is available for those who make less than $52,000, while the Tax Counseling for the Elderly (TCE) programs helps those aged 60 or better.
2. Find out if you need to file a return
Before filling out a tax return, find out if you're required to file. If you're 65 or older and your non-exempt income is less than $11,500 (or $21,200 if you're married), you may not have to file a federal tax return. If you are unsure, you can use the IRS' "Do I Need to File a Tax Return?" online tool.
3. Understand the standard deduction
When deciding whether to itemize or take a standard deduction, keep in mind that you may be eligible for a higher standard deduction. Seniors aged 65 or better can add up to an additional $1,200 to the standard deduction. There is an even higher deduction if you or your spouse is blind.
4. See if you qualify for the Earned Income Credit
If you made less than $52,000 last year and your investment income was less than $3,300, you may qualify for the Earned Income Credit. The IRS offers an online guide to see if you qualify.
5. See if you qualify for the Elderly and Disabled Tax Credit
The Elderly and Disabled Tax Credit is based on your age, filing status and income. To qualify, you must be 65 or older and your income must be below a certain amount (the amount depends on your filing status). The age minimum is waived for those who are permanently and totally disabled.
6. Find out about home improvement tax breaks
If you've made any renovations which improve your home's energy efficiency, you may be entitled to some state and local tax credits. Talk to your tax preparer or consult your city, county and state government websites to see if you qualify for any tax breaks.
7. Check your Social Security benefits
Each year, you should receive a Social Security Benefit Statement (Form SSA-1099) showing the amount of benefits you have received. Depending on your income and marital status, a portion of your Social Security benefits could be taxable. Find out more through the Social Security website.
8. Avoid early IRA withdrawals
If you are a new retiree, or getting ready to retire, it's important that you understand the tax implications of withdrawals from your IRAs. For example, if you withdraw money before you reach the age of 59 and ½, you are subject to a 10 percent penalty fee.
9. Claim your dependent grandchildren
Taking care of your grandchildren full-time may qualify you for the Child Tax Credit. The children would have to meet certain requirements, including having lived with you for more than half the year.
10. Watch out for Cancellation of Debt Income
If you were able to settle a defaulted mortgage debt through a short sale or other means of forgiveness, you could find yourself facing Cancellation of Debt Income (CODI). Fortunately, you may qualify for an IRS exemption of CODI which was in effect through December 31, 2013. Hiring a professional tax preparer is often the best way to avoid overpaying your annual taxes, but some careful research will also keep you from missing important deductions and tax credits.