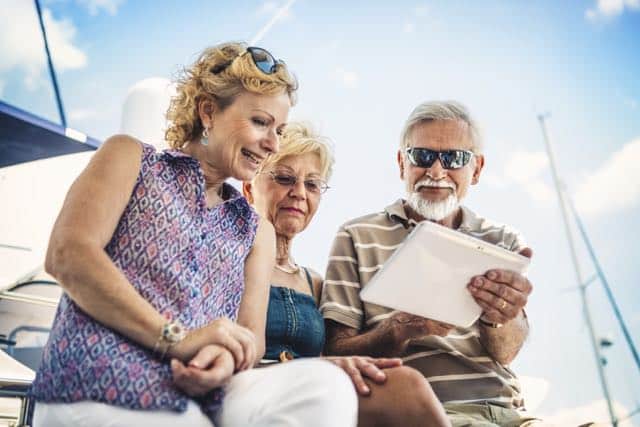 Whether on a smartphone or tablet, apps now days are designed for more than just entertainment. Baby boomers have been using a variety of useful apps for managing time, balancing checkbooks, staying fit, and keeping in touch with loved ones. Here is a list of 10 popular apps among retirees and working active adults.
AARP Members never have to worry about carrying their ID with this app. But it's more than identification, it provides relevant and local discounts on travel, dining, entertainment, shopping, services, as well as health and wellness. The app will also show you offers on a map so you can take advantage of your membership anywhere you are.
Keeping up with friends and family is faster and easier than ever. The Facebook mobile app is offered in a variety of platforms as well as a tablet app. Instantly share photos of your vacation, see your friends' updates, and edit posts and comments.
Skype is an ideal app to keep in touch with loved ones no matter where you are. The free service includes voice and video calls as well as file sharing to other Skype members. It's offered on a variety of devices including smartphones, tablets, and computers.
Lumosity's memory quizzes, scientific games, and brain tests have been popular among baby boomers for years. With over 60 million people using it worldwide to challenge their brains, the mobile app lets users use it whenever and wherever.
Mint is a safe and secure personal finance app that allows you to manage your money anywhere at any time. Whether you're in retirement or planning for retirement, this app is ideal for budgeting, paying bills, and seeing all your accounts in one place. Not only does it track your spending but it also provides custom tips and saving recommendations based on your life goals.
StandApp reminds us to get moving a few times a day. This app allows you to do low-level or medium-intensity exercises anywhere. Whether sitting on a couch or at a computer you can select intervals from 15 to 120 minutes per day to avoid a sedentary lifestyle.
This handy tool for seniors is perfect when having to quickly read something. EyeReader simply magnifies text that's too small or in a dark area. When at a restaurant, instead of fumbling and searching for your reading glasses, quickly open this app to read a menu. Simply shake your phone or swipe the screen to adjust the LED light and read prescription labels, receipts, and bills.
Finding a doctor in your area that accepts your insurance can be daunting. ZocDoc is a free mobile app that allows you to select a doctor or dentist with a specific specialty within close proximity. After reading patient reviews, you can book your appointment time and date instantly. It also provides appointment notifications to remind you of upcoming appointments.
Get instant deals and coupons right at your fingertips. The Groupon app allows you to find deals based on your location. This is a great app to have while on vacation or simply deciding which restaurant to go to for dinner.
What other convenient apps do you use? Tell us in the comments below.