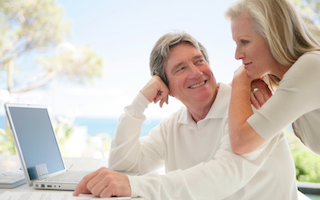 Just as we work hard to make 55Places.com the best resource for finding active adult communities, there are a lot of great websites which offer helpful advice for other aspects of retirement living. From finance and taxes to travel and volunteering, here are 20 great websites that will help you get the most from your retirement years.
This comprehensive website is designed to help you find useful information on member benefits, retirement, travel, finance, entertainment, and much more.
The U.S. Financial Literacy and Education Commission designed MyMoney.gov to offer financial help with many topics, including retirement planning and Social Security benefits.
The U.S. government also has a page dedicated to retirement benefits and planning at the USA.gov website.
This handy tool from the Social Security Administration makes it easy to estimate how much you will need to save for retirement.
This important page on the IRS website links to information that will help you file your annual tax returns.
The Balance is a website that offers a wide range of financial information, along with a special section of budgeting and savings tips for ages 55+.
If you're a veteran, the U.S. Department of Veteran Affairs website provides helpful information about your benefits.
Make your nest egg last by taking advantage of the senior discounts listed on this helpful website.
Enjoying retirement is about more than having enough money in your savings plan. How to Retire Happy features books and resources to make the most of retirement living.
From USA Today, this website brings you the latest information on medical research, wellness studies, and world health news.
The National Institute of Health offers this National Institute on Aging website to provide a wide range of health information and advice for healthy aging.
The Centers for Disease Control and Prevention offers a website featuring comprehensive information on a wide range of diseases and conditions.
Travel is a goal for many retirees. Cruise Critic can help you learn more about travel tips, senior discounts, and great destinations.
If you want to learn while traveling to exotic locations, RoadScholar has been offering educational vacations in destinations around the world since 1974.
Another great way to see the world is to combine volunteering with your travel plans. GoEco offers a wide range of senior volunteering opportunities both at home and abroad.
Volunteering is also needed in your own community. AmeriCorps Seniors is a government program designed to help older volunteers find opportunities that fit their individual skills and abilities.
Lifelong learning keeps your mind sharp and your retirement years interesting. This fabulous program lets you take free courses from the Massachusetts Institute of Technology.
If you're over 50 and looking for work, SER can help you find senior-friendly employers, job-hunting advice, and even computer training resources.
Softball is a great way to socialize and stay active, whether you play or watch from the stands. Senior Softball USA can put you in touch with local teams and tournaments.
This organization is dedicated to promoting and supporting sports for athletes aged 50 or better. It also features general information about health, fitness, and staying active.