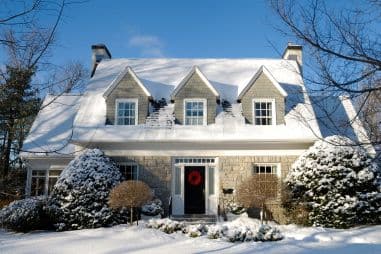 During the winter months, many concerned home sellers opt to pull their homes off the market with plans to try again in the spring. There are many reasons behind this decision. Perhaps the sellers have been told that no one is house-hunting this time of year, winter won't bring a good sale price, it's too hard to sell a home during the holidays, or that their homes simply won't show well in the winter. However, all of these well-intentioned bits of advice could make you miss out on a potential sale and unnecessarily push your plans back by several months.
Before you make a decision to pass up marketing your home for an entire season, consider these reasons why pulling your home from the market in the winter may be a bad idea:
1. You can't sell a home that isn't listed.
Though it's a nice fantasy, it is highly unlikely that a gutsy passerby will take a shine to your unlisted home, ring the bell and ask if you happen to be interested in selling. When you're serious about selling your home, you have to get the word out to as many potential buyers as possible. If you take your home off the market, it will be removed from the Multiple Listing Service (MLS) which real estate agents (and popular websites like realtor.com and trulia.com) use to connect homebuyers with available homes.
2. Winter may bring out more serious buyers.
While it is true that fewer homes are sold during the winter months, that doesn't mean that the real estate market comes to a complete halt. It's easy for curious shoppers to swing through open houses in the warm spring and summer months, but those who come out in the winter are often more serious about buying a home. These are the buyers you don't want to miss out on!
3. There is less competition this time of year.
Many sellers (who don't read this article) do pull their homes off the market during the winter or wait until spring to have them listed. This means that there is less competition if you do keep your home on the market than there will be during the peak spring and summer seasons. To make your home stand out during the gray winter months, be sure to clear the yard of fallen leaves and debris, keep snowy pathways neatly shoveled and well-lit, and add bits of color, such as a wreath of winter berries on the front door. You may also want to display some pictures of your home and yard that were taken in the spring or summer to give buyers an idea of what to expect.
4. The potential rewards outweigh the minimal risks.
The downside of leaving your home on the market during the winter is minimal. You might be disturbed for a few showings during the holiday season and the winter landscape may not be the best time to show off your flower beds or lush tree line. Yet every other seller in the area will have the same outdoor challenges, and some minor disruptions during the holidays will be worth the hassle if it leads to selling your home.