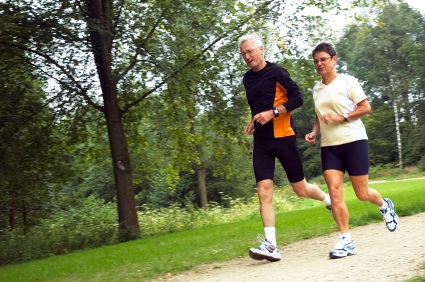 Whether you or your partner are seasoned athletes or just starting to embrace a more active lifestyle, it is never too late to become healthier, more energized, and stronger versions of yourselves. Many older couples who stay fit together enjoy several benefits including strengthened immune systems, better mental health, more intimacy, and a stronger bond. Here are four different ways for couples to stay fit together.
Go For a Walk
Walking at least 30 minutes everyday with your partner can help prevent certain health conditions such as diabetes, heart disease, and high blood pressure. It can also invigorate your joints -- keeping the bones and muscles in your body strong. Whether you and your partner want to take a brisk stroll around the neighborhood or challenge yourselves by jogging around a park, this activity is a simple way to stay active while spending time with your significant other. Just grab a pair of comfortable sneakers and head anywhere.
Join a Fitness or Dance Class
Fun and interactive guided workouts are great for staying fit. Yoga is safe and calming and, with the help of a certified instructor to ensure that mistakes are minimal, both you and your spouse can experience improved flexibility in no time. Dance classes can help with coordination and create more sparks in your relationship. Joining a class is an opportunity for you to meet friends and other like-minded couples. Seniors, who are just beginning their journey to become more active, should avoid high-intensity trainer programs such as P90x or Insanity. It is important to have a good time and challenge yourselves, but be sure not to overdo it.
Pick Up a New Sport
Recreational sports such as tennis, golf, and bocce ball can be entertaining and fun to play with your partner while promoting a bit of healthy competition. These sports can help work up a sweat, get your hearts pumping, and allow you to go at your own pace. For couples who are looking to play doubles with others their age, there are many active adult communities that offer sports leagues.
Go Swimming
Swimming is not only therapeutic - it also improves endurance, builds skin tone and muscles, and provides gentle joint relief. There are many gyms and fitness centers that offer water aerobics programs for people of all ages. Basic swimming for thirty minutes per session is a great cardiovascular activity that yields the most physical benefits for seniors. For couples who want to get stronger together, they can learn water resistance exercises such as arm curls and leg raises. Relaxation training in the water aids with breathing control and lowering heart rate.