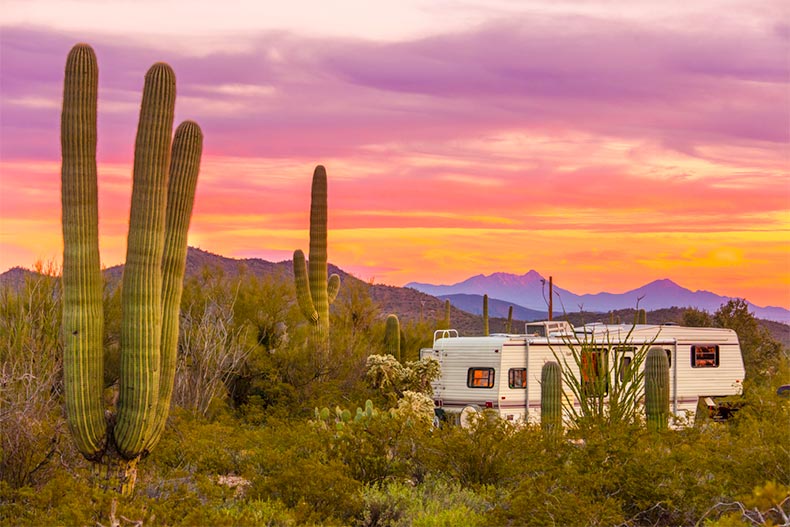 While some retirees are looking for their new community to call home, there are some looking for their perfect parking spot. Hitting the road in an RV has become increasingly popular for active adults.
For those considering the open road, the initial process of such a lifestyle change may seem a bit daunting. Some snowbirds may ask where to head for the winter, while full-timers need places to park throughout the year. Whatever your lifestyle, RVers may want to take a look at these camping spots.
Zion River Resort - Virgin, Utah
Located adjacent to Zion National Park, Zion River Resort is a popular destination for RV campers. Not only is this resort conveniently located next to one of the country's most scenic national parks, but it has a variety of activities and camping sites offered to guests.
At Zion River Resort guests can participate in group hiking outings, geocaching, and cookouts. Inside the national park, guests can join in pickleball matches or even take a ride on some of the biking trails. This resort offers both weekly and consecutive monthly rates for those looking for an extended stay. Campers looking to be close to nature and the river should consider Zion River Resort.
Nearby Communities
Bella Terra of Gulf Shores - Foley, Alabama
As one of the most popular RV resorts in the south, Bella Terra of Gulf Shores has a lot to offer its guests. Whether you're staying for a week, a month, or even looking to buy your very own spot, Bella Terra of Gulf Shores will keep you entertained.
The resort has a 6,000 square-foot clubhouse that is home to amenities such as a private movie theater, spa and sauna, hot tub, and an infinity pool. The resort is surrounded by its very own lake which guests can utilize for a relaxing day of fishing.
Along with its long list of amenities, this resort also hosts holiday parties and performances throughout the year. In the surrounding area, guests will find several golf courses, fishing outlets, and outdoor gardens such as Bellingrath Garden. For RVers looking for a site which offers a variety of amenities in warm Southern weather, Bella Terra of Gulf Shores is a good place to start.
Nearby Communities
Durango RV Resort - Red Bluff, California
Durango RV Resort in Red Bluff, California is known for its amenities and central location to national parks and local attractions. Some of these amenities include an exercise room, lodge, tennis and bocce ball courts, and even a spa where guests can relax with a massage after a long drive. Guests of Durango RV Resort often go outside the park to explore the outdoors at places like Whiskeytown Rec Area, Lassen National Park, and Shasta National Forest.
There are plenty of hiking opportunities in these surrounding areas and even a mountain or two with views that are worth climbing to the top. The resort offers a monthly rate as well as varying weekly rates depending on what type of spot you are looking to reserve. They also offer 10-15% discounts for veterans and RVers 65+.
Nearby Communities
Bluewater Key - Key West, Florida
Island campers flock to Bluewater Key Resort in Key West, Florida. This tropical RV resort has a few different types of lots to both rent and buy. Surrounded by lush landscaping, guests of this site can enjoy a private clubhouse, temperature controlled pool, community boating dock, and even a dog park. Guests looking for a more private stay can book a platinum lot with its own cabana, or a canal lot on the water, there is also the standard lot available to rent and buy. Bluewater Key is a great location for any vacationers looking to enjoy Florida's Key West region.
Nearby Communities
Normandy Farms - Foxboro, MA
Voted in the top 15 campgrounds in the world by Travel Channel, Normandy Farms gives its guests a taste of the woods of the Northeast. This resort not only has a long list of amenities such as a spa where guests can get a massage, playgrounds, and pools as well as private yoga lessons and frisbee golf games.
Guests of Normandy Farms enjoy being just 30 miles outside of Boston and a day's trip away from Cape Cod. Sports fans also enjoy being just five miles from Gillette Stadium, home of the New England Patriots. Whether you are looking to relax in the woods or even catch a football game, Normandy Farm is a great location for campers looking to explore the Northeast.
Nearby Communities