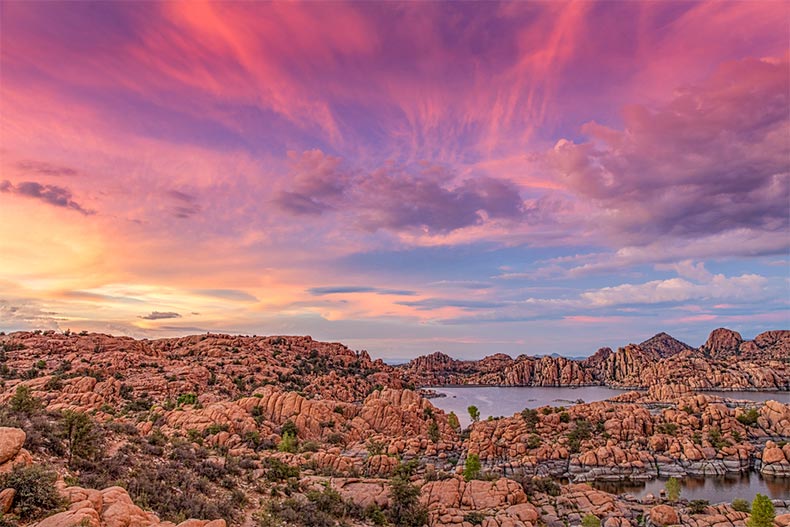 With sunny weather all year and easy access to outdoor recreation, Phoenix is one of the most popular retirement destinations in the Southwest. It's home to renowned age-restricted communities, including the original Sun City.
While Phoenix itself has plenty of activities and attractions, the surrounding area offers even more to do and see. Just an hour or two outside of the city leads to world-famous destinations and historic sites. Below we're taking a closer look at some of the best day trips from Phoenix.
Enjoy Arts and the Outdoors in Sedona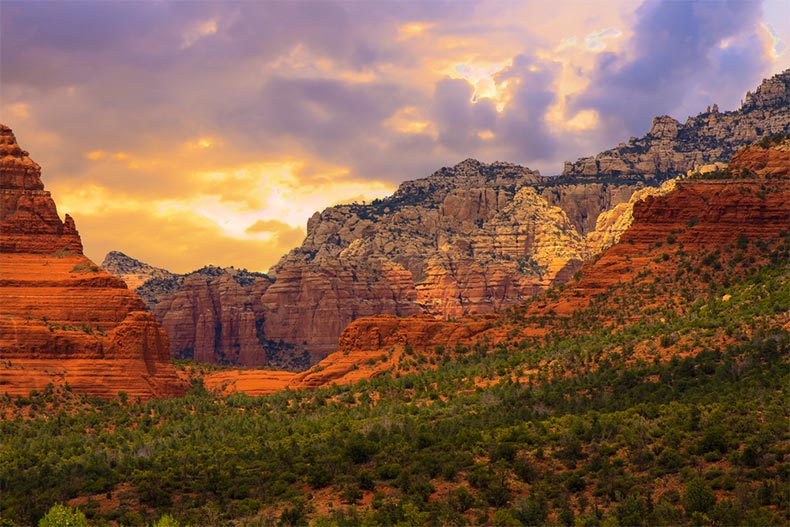 Known for its towering red rock formations, Sedona is lauded as one of the most beautiful places in the country. It's about a two-hour drive from Phoenix, and there are also shuttles available, allowing day-trippers to relax and enjoy the scenery on the way.
Sedona has over 300 miles of trails for hiking and biking, and 1.8 million acres of national forest land to explore. It's truly a paradise for outdoor lovers, offering horseback riding, fishing, rafting, and even skiing during the winter months. After a long day of exploring Sedona's beautiful forests and trails visitors can wind down at one of many restaurants in the area, from elegant Italian cuisine to classic American diners.
Sedona also enjoys a vibrant arts scene. The Sedona Arts Center has an excellent collection of pieces in its fine art gallery. Native art can be seen at various historical sites, including the Palatki and Honanki heritage sites. The Sedona Heritage Museum also features Native artwork and dance performances. During fall, the Sedona Arts Festival draws thousands of people from all over the country. This yearly festival exhibits the work of over 100 artists, and visitors can enjoy the stunning backdrop of Sedona's red rock formations.
Explore the Sonoran Desert National Monument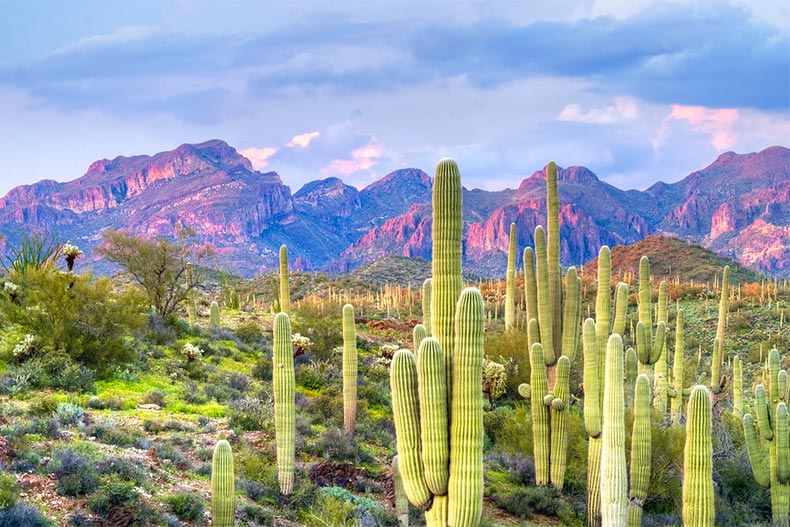 The Sonoran Desert is the only place where saguaro cacti grow in the wild.
The Sonoran Desert National Monument is about an hour's drive from Phoenix and has an incredible variety of plant and animal life. The area is home to grassland, desert, tundra, and coniferous and deciduous forest. Visitors can hike and bike on trails that meander through towering saguaro cacti. In fact, the Sonoran Desert is the only place in the world where the saguaro grows wild.
The monument also offers hiking, equestrian trails, and outdoor recreation at its three wilderness areas: the North Maricopa Mountains Wilderness, the South Maricopa Mountains Wilderness, and the Table Top Wilderness. Big game hunting is also permitted in certain areas.
Experience Small-Town Mountain Charm in Flagstaff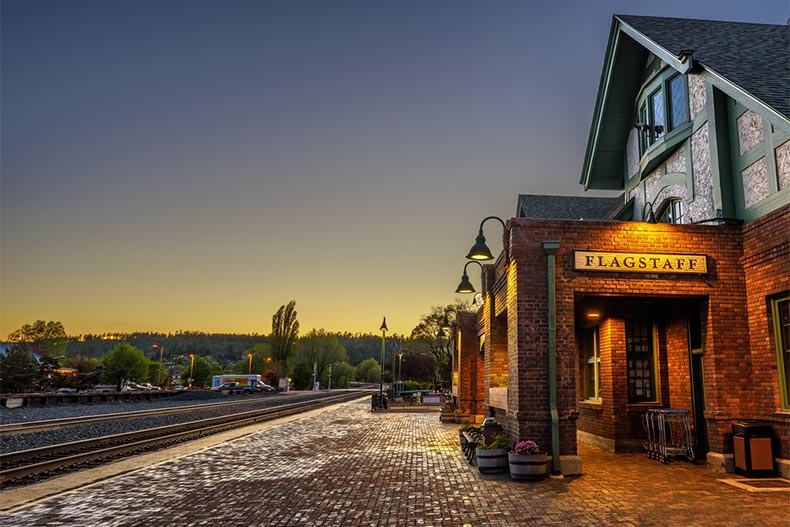 Flagstaff is a quaint mountain town great for a day or weekend trip.
A little over two hours away from Phoenix is the mountain town of Flagstaff. This quaint town sits at about 7,000 feet above sea level in the mountains, offering beautiful views of the surrounding San Francisco Peaks. Flagstaff's higher elevation means that the area experiences distinct seasons, making it a welcome escape from Phoenix's hot, sunny weather. In winter, the surrounding mountains are covered in snow, and the beautiful ponderosa pine forests offer a much different setting than what visitors usually expect when they picture Arizona.
There are plenty of activities to enjoy in Flagstaff any time of the year. Visitors can hike and camp in the San Francisco Peaks, which together form Arizona's tallest mountain. During winter, the Arizona Nordic Village offers cross-country skiing, snowshoeing, and snow bikes. Flagstaff's charming downtown area is where locals and visitors gather to shop, explore museums and art galleries, and dine at cozy restaurants.
Take a Trip Back in Time at Montezuma Castle National Monument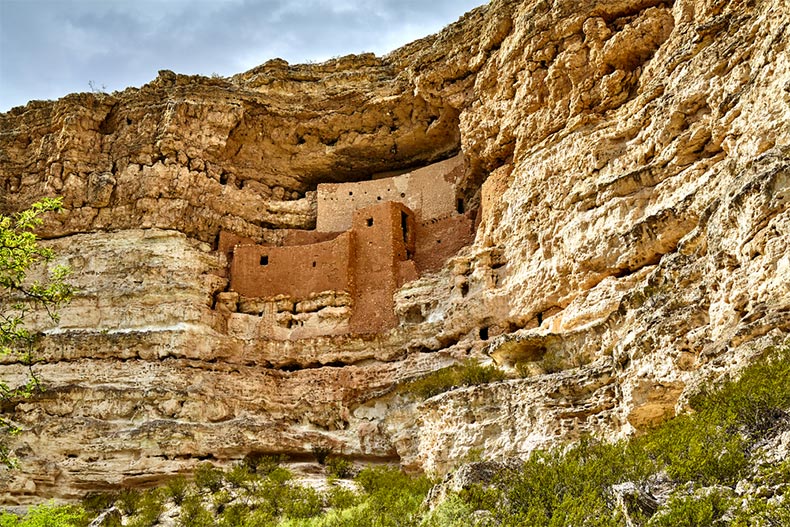 The Montezuma Castle National Monument is truly a unique structure.
For history buffs, Montezuma Castle is a must-see site that is located about an hour-and-a-half away from Phoenix. The incredibly preserved dwellings at Montezuma Castle were carved directly into limestone cliffs by the Sinagua, a Native American tribe that originally inhabited the area hundreds of years ago. When the ruins were first discovered in the 1800s by European Americans they named the site after the Aztec emperor, mistakenly thinking the dwellings were built by the Aztecs.
This historic attraction is truly a sight to behold: The structure was carved into the cliff with an apartment-style design. The main section is five stories high and has twenty rooms, and it is believed to have been constructed over the course of three hundred years. While visitors are no longer allowed access to the fragile structures, there are tours that provide stunning views of the monument and the surrounding area.
Unwind in Prescott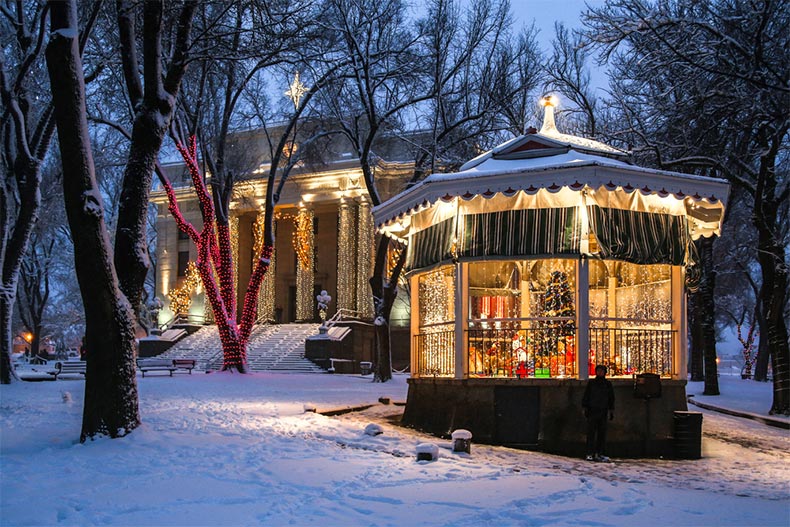 Prescott's scenery sometimes even includes snow.
Prescott, a charming city with historical buildings and Victorian-era homes, is located less than a two-hour drive from Phoenix. Prescott once served as the original capital of Arizona and today this vibrant locale is known for its slower pace of life and small-town charm.
Prescott is home to thriving art galleries and it holds several festivals throughout the year, including an annual bluegrass festival that draws thousands. Prescott is the perfect place to catch a live music show, check out local artists, explore museums, tee up at several golf courses, and unwind at a boutique hotel.
If you're thinking of making a move, take a look at the Phoenix community page to learn more about the area or sign up for our Arizona newsletter below.