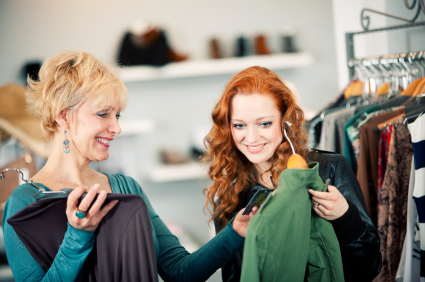 The holidays may bring family and friends together, but they also bring decadent treats and a tendency to overindulge. Enjoy your festive feasts without putting on pounds by finding some simple ways to add more exercise into your holiday routine.
Spending extra time at the gym may not be practical during the holiday season. In fact, family dinners, out-of-town guests and holiday parties tend to interrupt many people's regular exercise routines. Fortunately, you don't have to make it into the gym or to a fitness class to burn those extra calories. Try some of these easy tips for adding more activity into your day:
1. Shed pounds with shopping
The winter holidays come with gift-giving as well as feasting, and that gives you a chance to burn calories while checking off your shopping list. Buy gifts locally instead of shopping online and add in extra steps as you go. Use the stairs instead of escalators, park farther away from store entrances and browse before making your selections. If you plan to go to more than one store, make trips out to your car to drop off your purchases as you go.
2. Clean away the calories
Hosting holiday gatherings or out-of-town guests may add to your household chores. Luckily, cleaning your home is a great way to burn extra calories. Keep up the pace during housework to raise your heart rate while you work. Tighten your abs while you vacuum, bend and lift. You can also amp up your activity by slipping some quick exercises like jumping jacks or knee lifts in between chores.
3. Walk throughout the winter
Walking is a great, low-impact way to burn calories and stay in shape, but winter weather and holiday activities can keep you off the walking trails. If you live in a cold climate, move your walking routine to an indoor track or treadmill. When you have guests in town, bring them along for a walk, even if it means slowing down your regular pace. If you don't have access to a treadmill or indoor track, you can also walk laps in a nearby shopping mall.
4. Take up a winter sport
Shake up your exercise routine with a more seasonal activity. Skiing, snowboarding, snowshoeing and ice skating are all great winter activities that burn a lot of calories. You can even get out and play in the snow with grandkids or shovel your snowy driveway (being careful not to strain your back). If you don't live in a snowy area, think about planning a winter getaway to a ski resort or mountain lodge where you can try out some winter sports.
5. Pick active pastimes
Instead of playing an after-dinner board game (or sacking out on the couch), join the family for some active pastimes like table tennis or darts. Challenge your grandkids to a hula hoop competition or break out the Wii for active video games. Just playing with your grandkids can burn extra calories, especially when you pick any activity that gets you up and moving.