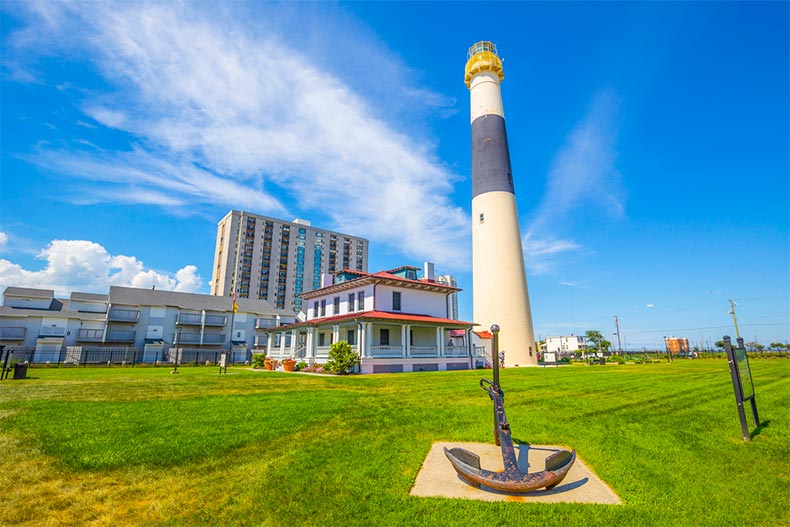 Lighthouses have always had magical auras that draw people to them. Their lights serve as beacons to ships at night and connect visitors to land, water, and a sense of adventure. The history of lighthouses can be traced back to Egypt with the Pharos of Alexandria lighthouse, which is considered to be one of the first. Built around 280 BCE, it was built in the Alexandria harbor on Pharos Island. It was reportedly over 350 feet tall.
In New Jersey, there are 11 lighthouses, and they happen to be located in some of the most scenic parts of the state. Here's a look at five of the most popular if you're looking for a lighthouse-themed road trip.
Absecon Lighthouse - Atlantic City
At 171-feet high and with 228 steps, Absecon Lighthouse is the tallest in Jersey and the third tallest in the U.S. Up top, visitors get fantastic views of the Atlantic City skyline. and its original lens, which was first lit back in 1857. It recently underwent a multi-million dollar restoration and has its own exhibits and museum. It is open year round.
Nearby Communities
Finns Point Range Lighthouse - Pennsville
This historic, wrought iron lighthouse was built in Buffalo back in 1876. It stands 115 feet high and is near Fort Mott State Park, a 104-acre park with a waterfront, and artifacts from the Spanish - American War. Finns Point Range Lighthouse is open March to May, and September to November.
Nearby Communities
Hereford Inlet Lighthouse - North Wildwood
Hereford Inlet leads the Atlantic Ocean to the Intra-Coastal Waterway, which links Maine and Florida. Its working lighthouse has been in use since the 17th century, and it is surrounded by a picturesque park and museum. It was designed by Lighthouse Boards Chief Draftsman, Paul J. Pelz, who later designed the Library of Congress in Washington D.C. Hereford Inlet Lighthouse is open all year and admission is free.
Nearby Communities
Sandy Hook Lighthouse - Atlantic Highlands
Sandy Hook Lighthouse has the distinct honor of being the oldest operating lighthouse in the country. It is located on the grounds of Fort Hancock at the Sandy Hook Unit of Gateway National Recreation Area. It has been operating since 1764. The surrounding area includes beaches, trails, wildlife, salt marshes, and additional historical sites. Admission is free and it is open year round.
Nearby Communities
Twin Lights - Highlands
Originally built in 1828, Twin Lights is the main seacoast light for The Highlands, New York Harbor. Housed at Twin Lights Marina, it was rebuilt in 1862 and is on the Shrewsbury River, about five minutes away from Sandy Hook. It is made from brownstone and its unique design features two towers, one flashing beacon, and one fixed beacon. It is normally open Wednesday through Sunday.
Nearby Communities